Belém, Lisbon's must-see district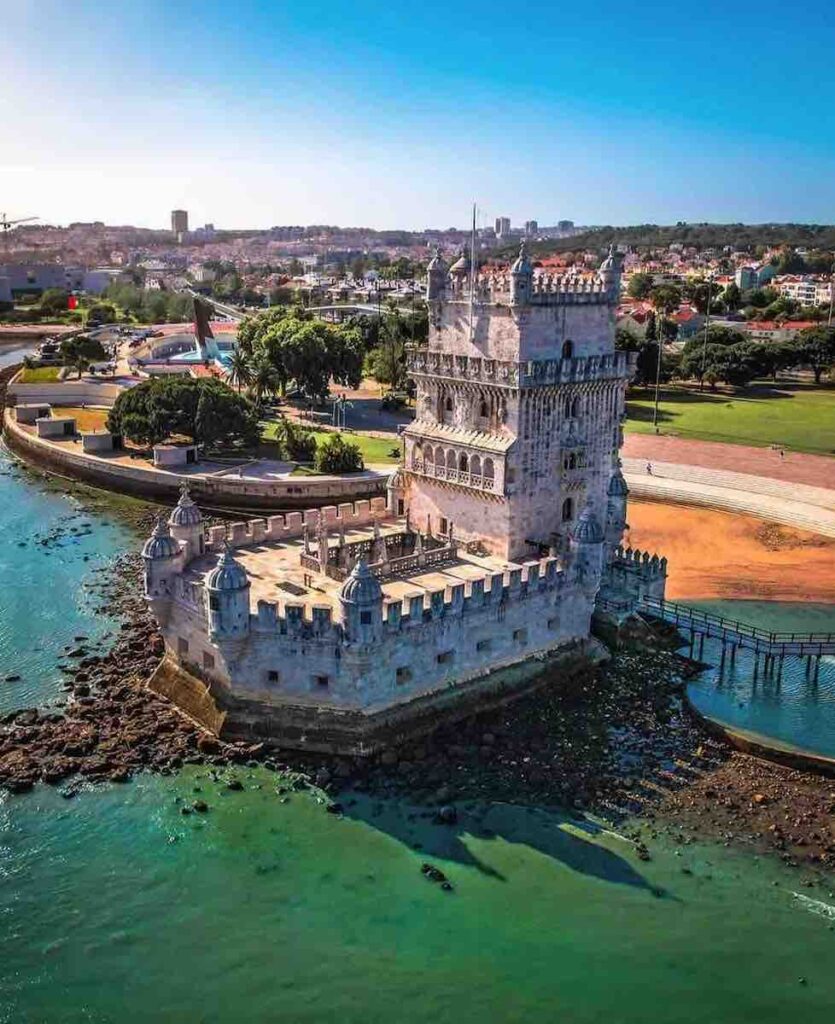 The district of Belém, in the west of the city, is known throughout the world as the birthplace of our "pastéis de nata" and the site of two of Portugal's 7 Wonders.
Before the great works of King D. Manuel I in the 14th century, this area was a beach called Praia do Restelo.
Today it is one of the most popular areas for tourists, thanks to its historical monuments, cultural sites, beautiful gardens and the magnificent promenade along the banks of the River Tagus.
Half a day is enough to walk around the district. But if you want to see many of the monuments from the inside, you'll need a whole day, and don't forget the Lisboa Card, which entitles you to many discounts.
Monuments, Museums, Walks and Gastronomy
We present this section in the chronological order of a visit we would make if we arrived from the city centre by tram 15E, Belem stop.
Of course, it's up to you to decide in which order you want to visit and, above all, what you want to see, according to your taste. Prices are indicative only and are subject to change.
We divide the neighbourhood into two parts: landside and riverside, which are separated by a highway.

Earth side
Quake | Lisbon Earthquake Museum
The Quake is an IMMERSIVE MUSEUM OF THE 1755 EARTHQUAKE that takes you safely back in time to discover how the earthquake changed the face of the city forever and rocked the Old Continent. Discover with access to 2 earthquake simulators, an immersive 4D experience and 10 themed rooms with information in 4 languages.
The experience lasts around 1h30 and is a great option for rainy days in Lisbon.

Cannot participate:
Children under the age of 6
Pregnant women
People with reduced mobility
Recommended price:
Adults €24
Seniors over 65: €19
Children from 6 to 12 years: €17
Museu Nacional dos Coches
Inaugurated in 1905, this is the first carriage museum in the world.
Here you will discover the old carriages of the Royal Household. It's a visit that the youngest visitors will love.
Price: Adults €8 – Children under 12 free
Free on Sundays and public holidays until 14:00 for residents of Portugal.
Av. da Índia 136, 1300-300 Lisboa
Jardim Afonso de Albuquerque
Adjacent to the carriage museum is this pleasant garden with a bronze statue of the great navigator and explorer of the same name, Afonso de Albuquerque.
It was he who conquered Goa in 1510 after building the fortress of Cochin. A great figure in Portuguese expansion to the east, he was made a duke by King Manuel I.
Palácio Nacional de Belém
Opposite the garden is the Palais National de Belém, a modern museum housed in the palace's former coach house, with exhibitions on the history of the Republic.
Admission: Adults €2.5 – Free for children under 14.
Free admission every Sunday from 10.00 to 12.30 (last admission).
Jardim Botanico Tropical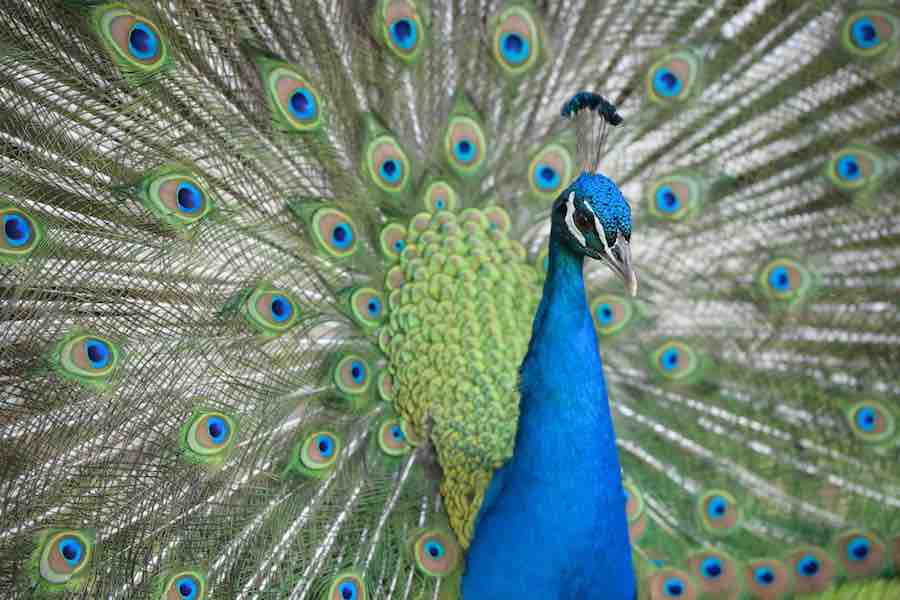 5 hectares of tropical flora with peacocks and other birds in the heart of Belem.
It's the perfect place to take a break from historical visits and get some fresh air. In spring, with all the flowers, the place is simply magical. The only downside is that the grounds are poorly maintained, but that's just a detail for botany lovers.
Price: Adults €4
Gastronomy: Pasteis de Belem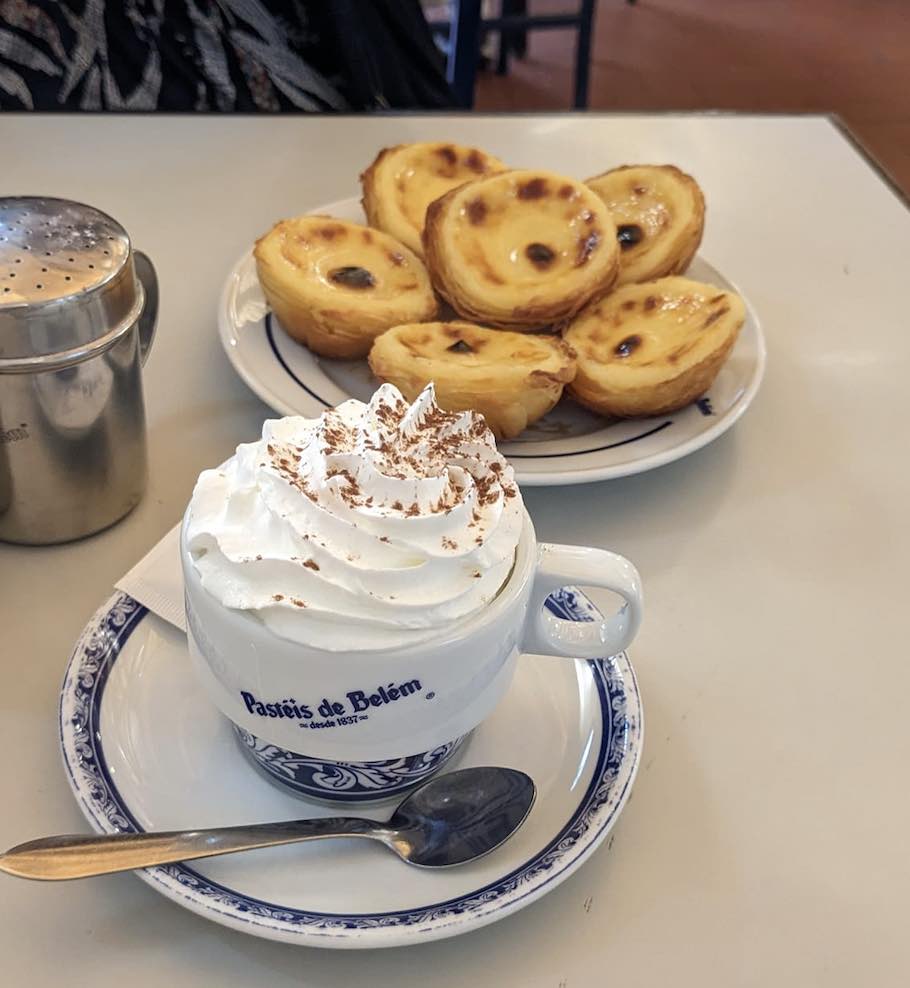 If you follow the tram tracks, you'll come across the emblematic bakery/pastry shop Pasteis de Belem.
It's undoubtedly a speciality not to be missed when visiting Belém, Lisbon and Portugal.
We invite you to read our article Where to eat the 5 best "pasteis de nata" in Lisbon to find out about their history, which is directly linked to the monastery here in the photo, and our tip for avoiding long queues.
R. de Belém 84 92, 1300-085 Lisboa
Restaurant: Taberna dos Ferreiros
If you're looking for a place to eat in a Portuguese atmosphere with typical dishes at a reasonable price, this is the place to go. We recommend the homemade cod: Bacalhau a Taberna for around €13.50.
Tuesday to Saturday, 12pm to 3pm and 7pm to 10pm. Sunday from 12 to 15.
TV. Ferreiros a Belém 5, 1300-085 Lisboa
Restaurant: Comptoir Parisien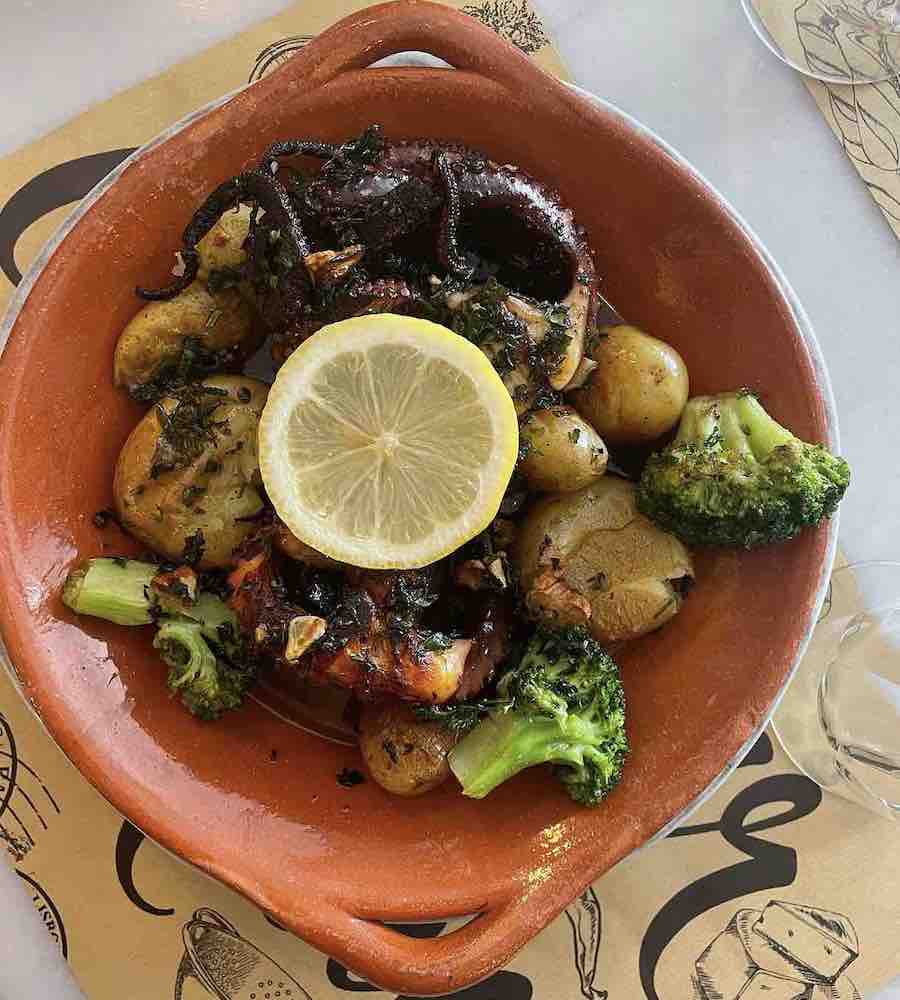 This is a bistro with classic French and Portuguese dishes. Something for everyone!
You can also easily find :
the famous octopus with lagareiro (pictured)
or a good andouillette with mustard.
Their terrace is equally pleasant, situated between a pedestrian street and the Jardim Vasco de Gama.
And a smiling, dynamic team will welcome you with a tasty menu and freshly prepared products.
Price: between €20 and €25 per person
Sunday, Tuesday, Wednesday 11am to 5pm | Thursday, Friday 11am to 4pm and 6.30pm to 10pm | Saturday 11am to 10pm.
R. Vieira Portuense 44, 1300-469 Lisboa
Jardim Vasco de Gama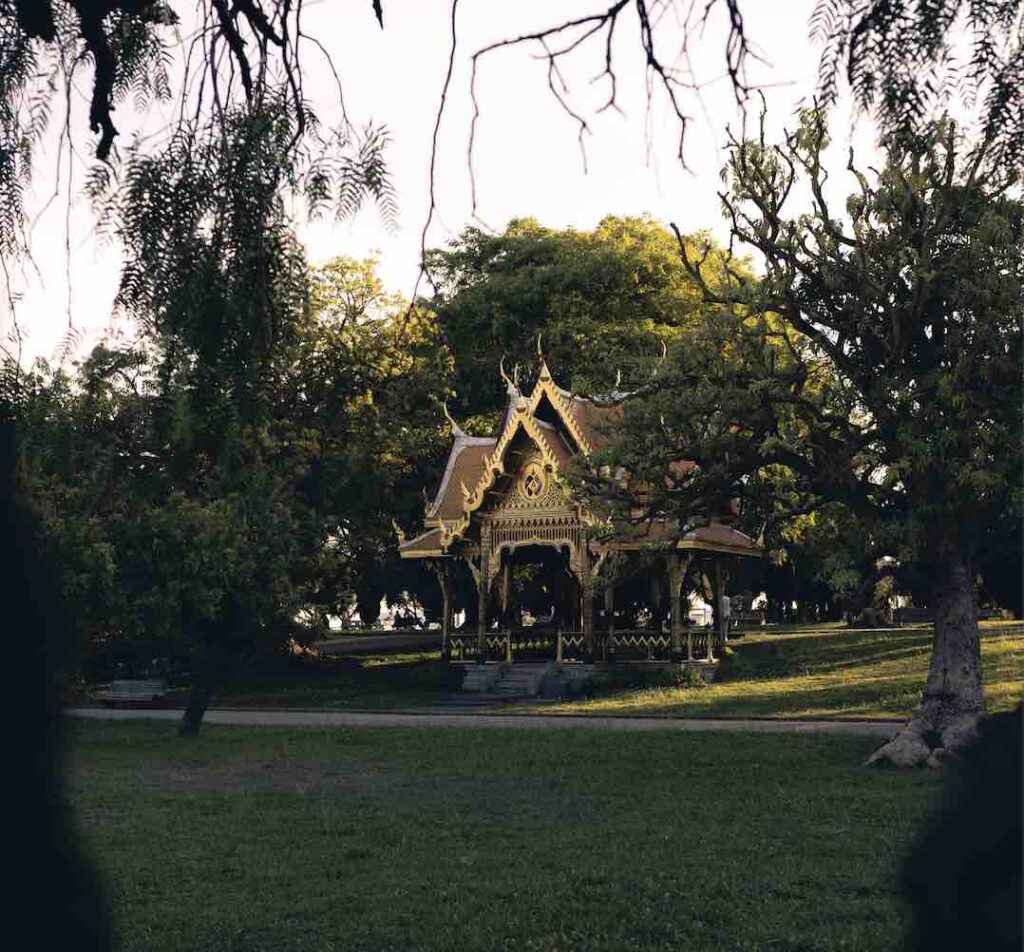 A 42,000 m2 garden dedicated to the famous explorer Vasco de Gama.
There is also a large playground for children.
Perfect for a family outing and to enjoy the Pasteis de Belém that you will have picked up beforehand.
CURIOUS: In the centre you'll find the Pavilhão Sala Thai, inaugurated in 2012 to commemorate the 500 years of diplomatic relations between Portugal and Thailand.
The pavilion was built in Thailand and transported by boat along the same route used by navigators at the time of the great discoveries.
Mosteiro dos Jerónimos
A Gothic Manueline Hieronymite monastery with archaeological and maritime museums in its wings, built in the 16th century to commemorate Vasco da Gama's return from the Indies. His tomb is located here.
The monastery is a perfectly preserved architectural masterpiece and has been a UNESCO World Heritage Site since 1983. It is considered one of the 7 Wonders of Portugal.
TIP: This is one of the most visited monuments in Lisbon. We recommend that you get there before it opens at 9.30am or at the end of the day, around 4pm.
You can also use the Lisboa Card to beat the queues, but as most people have it, you won't really need it.
Tarif:10€
Horaire: 9h30 – 17h30
Astuce: C'est l'un des monuments les plus visité de Lisbonne. On vous conseille d'y aller à l'ouverture 9h30 ou alors en fin de journée après 16h. Vous avez aussi des coupes files avec la Lisboa Card, mais la plupart des touristes l'ayant, cela ne vous évitera pas de faire tout de même la queue.
Le mieux, c'est de prendre un billet double à 12€ au Museu Nacional de Arqueologia juste à côté pour une pour la visite double, ce qui vous permettra d'accéder par la suite au Monastère en passant par l'arrière.
Museu Coleção Berardo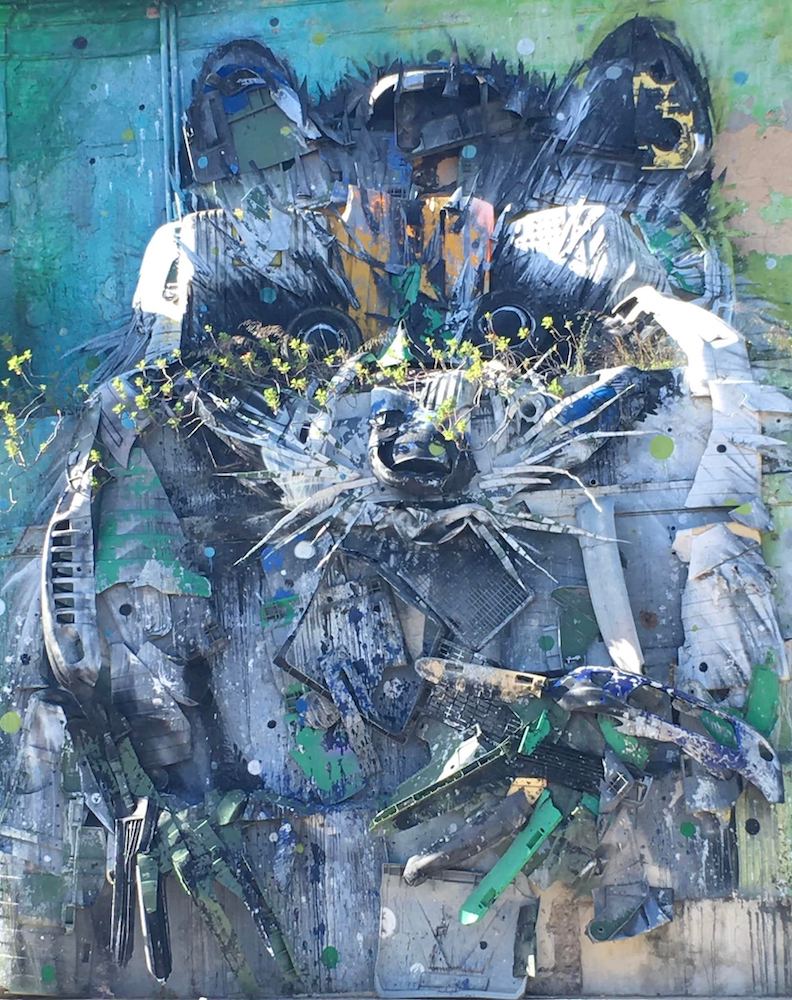 With its massive, uncluttered architecture, the museum has everything it needs to house Berardo's rich collection of contemporary art, with regular art activities for younger visitors.
Behind the museum, along the tram line, a surprise awaits you from the artist Bordalo II.
Tuesday to Sunday, 10 am to 7 pm
Free on Saturdays
Praça do Império, 1449-003 Lisboa
Jardim da Praça do Império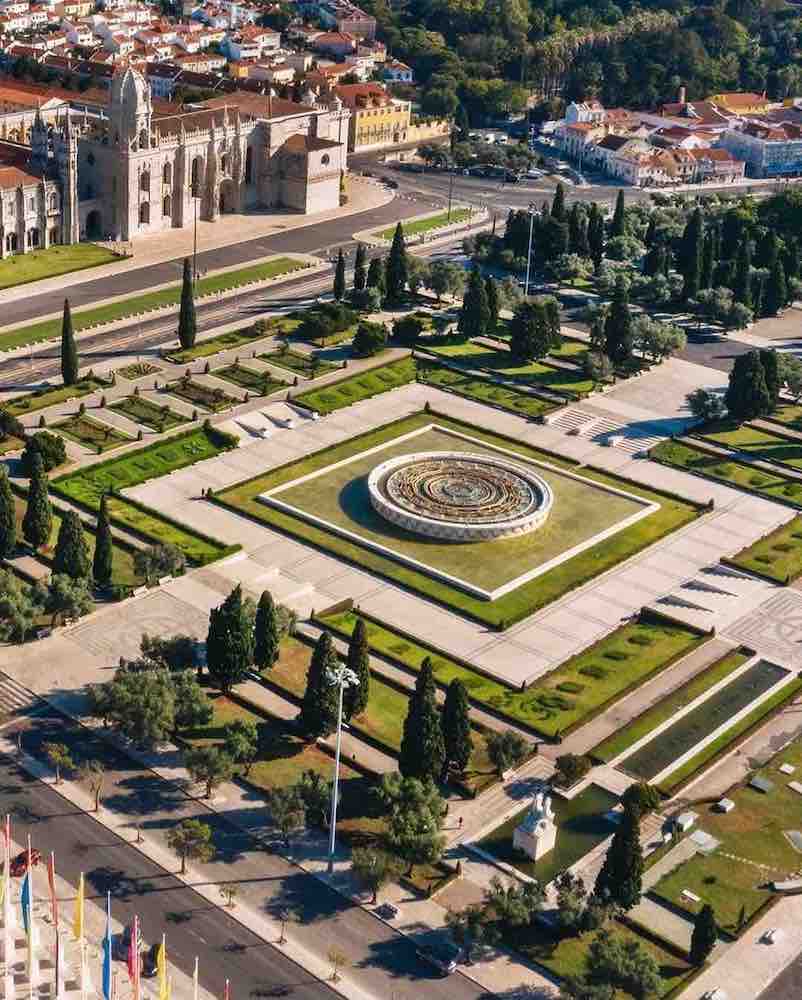 Adjacent to Jardim Vasco de Gama, this is a perfectly geometrical garden with a majestic fountain at its centre, providing a touch of coolness during the day and a very pleasant light show in the evening.
The meticulous work done on the ground by the calçadas portuguesas is particularly striking.
It has recently undergone a facelift and is now as beautiful as ever.
WORTH KNOWING:
There are three ways to get to the banks of the river, from east to west:
River side
Belem Tower, a must see in the Belem district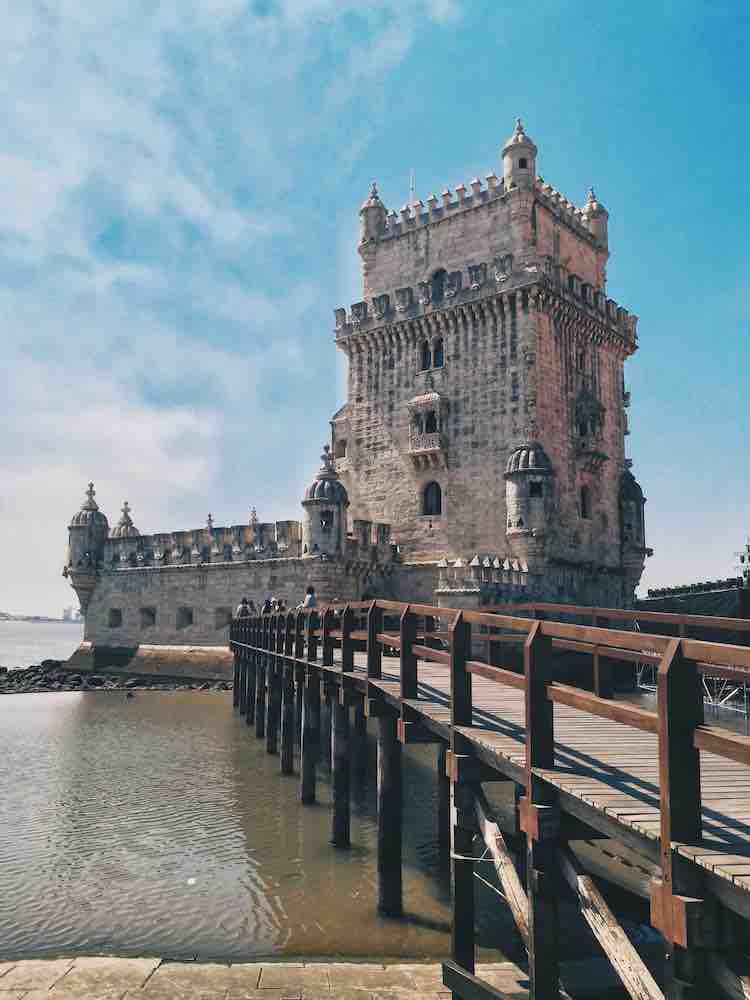 Definitely one of the must-sees in the Belem district. I have to admit that the first time I had the pleasure of seeing the tower, I understood what all the fuss was about. You're immediately transported back to the era of the great seafarers, and you can see yourself welcoming the sailors back from their long voyages with their great ships filled with spices and precious stones.
It was once the fortress of the port of Lisbon. There are engravings on the walls of the tower that tell the story of the royal era. It is a UNESCO World Heritage Site, another of Portugal's 7 Wonders.
Price: from €6
Opening hours: 10am – 5.30pm
Doca Bom successo et Doca port de plaisance
These are just two of the many departure points from which our boats can be used for group or private excursions on the River Tagus.
If you'd like to enjoy a breath of fresh air on the calm waters of the river and an incredible view of the city, see our dedicated article.
Available for from 1 to 220 people.
Padrão do Descobrimentos – Another must-see in the Belém district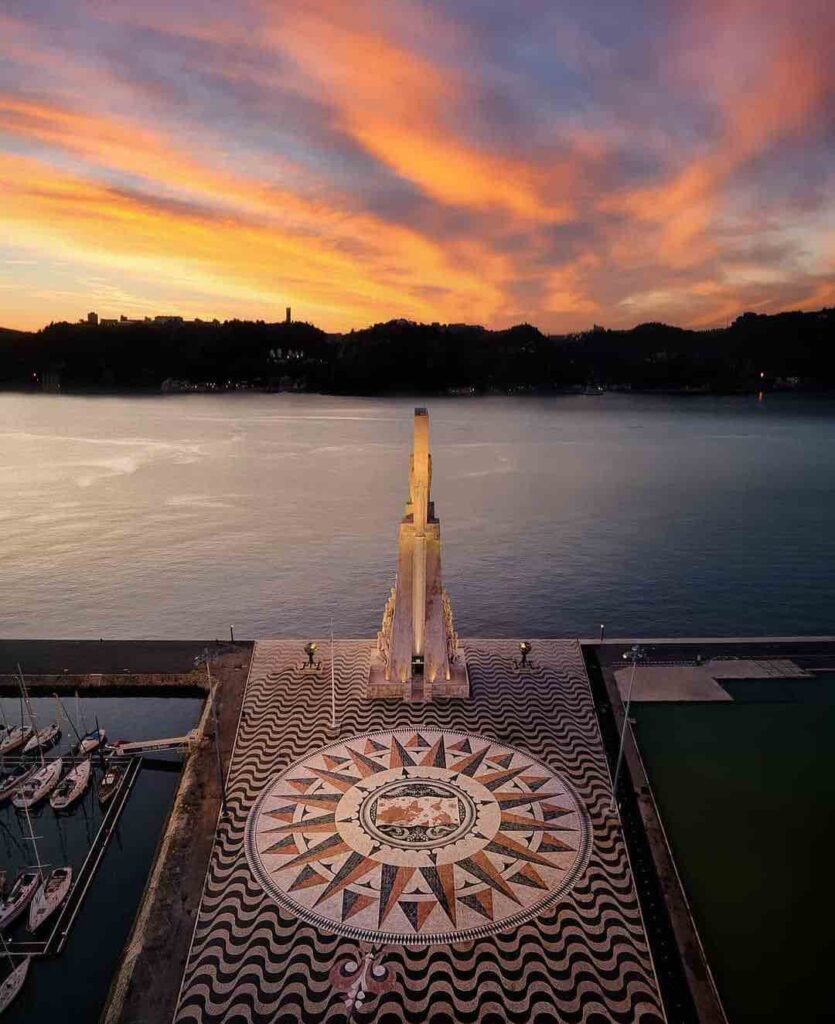 Another must-see in Belém, with its world map on the floor and its compass rose.
The Padrão do Descobrimentos is one of the youngest monuments in the district. Inaugurated in 1960, it simulates the prow of a ship.
It was erected in honour of the navigators who made the history of Portugal in the XV and XVI centuries and of Prince Henry the Navigator, who is at the head of the monument.
It is symbolically located at the point where the ships of Vasco Da Gama left for India in 1497 and Pedro Alvares Cabral left for Brazil in 1500.
It is possible to climb to the "roof" of the monument to get a bird's eye view of the whole of Belém.
Price: from €3
Opening hours: 10am – 18.30pm
Restaurant: A Vela / Associação Regional de Vela do Centre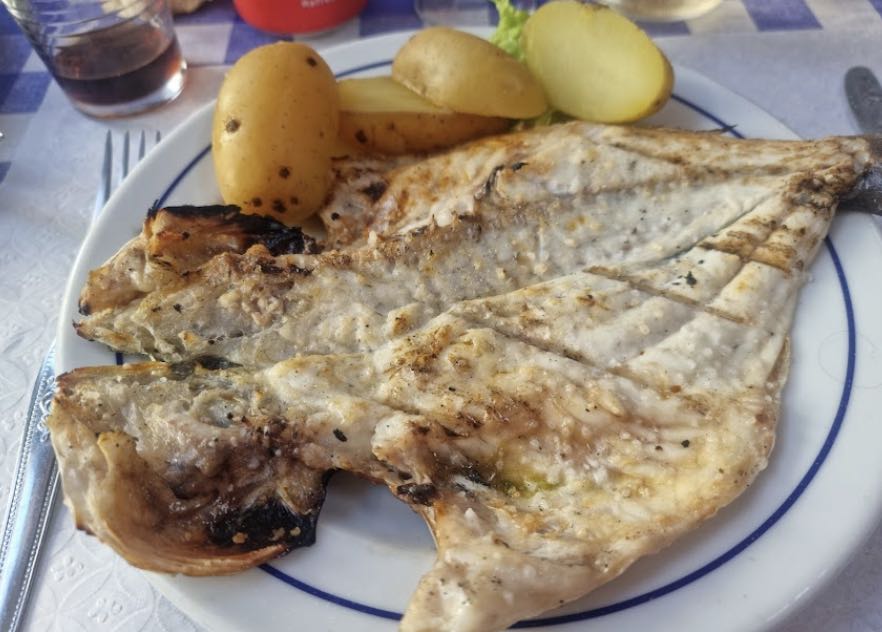 If you're looking for a typical Portuguese riverside spot to eat fresh fish, this is the place. Octopus with vinaigrette as an aperitif, turbot, sole, white mullet and red mullet are all on the menu. As you can see, seafood is the main attraction. But there are also meat options.
What's more, if you choose to eat here, you'll be contributing to the development of the regional sailing association. That's a good thing, given the quality of the products and the setting.
Prices are reasonable, with dishes ranging from 12 to 15 euros.
Tuesday to Saturday 12pm to 10pm | Sunday 12pm to 4pm
Av Brasilia Doca de Recreio Belem PAV. A.R.V.C, 1400-434 Lisboa
MAAT – Museum of Art, Architecture and Technology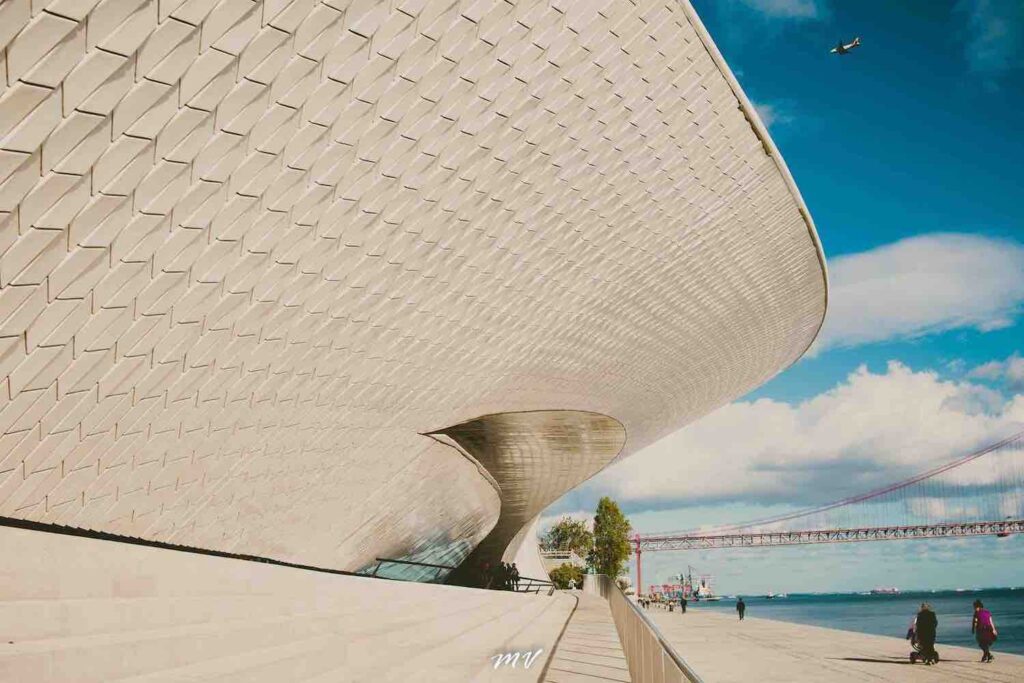 Built in 2016, this Museum of Art, Architecture and Technology is one of the city's newest.
From the outside, it's a feast for the eyes, with a gentle curve reminiscent of a wave.
Inside, there are rich, varied and entertaining exhibitions and a restaurant area. An obligatory stop.
Entry fee: €9 adults/€6 children
Free for under 12s
Opening hours: Thursday to Monday: 10am – 7pm
The quays to the Pont du 25 avril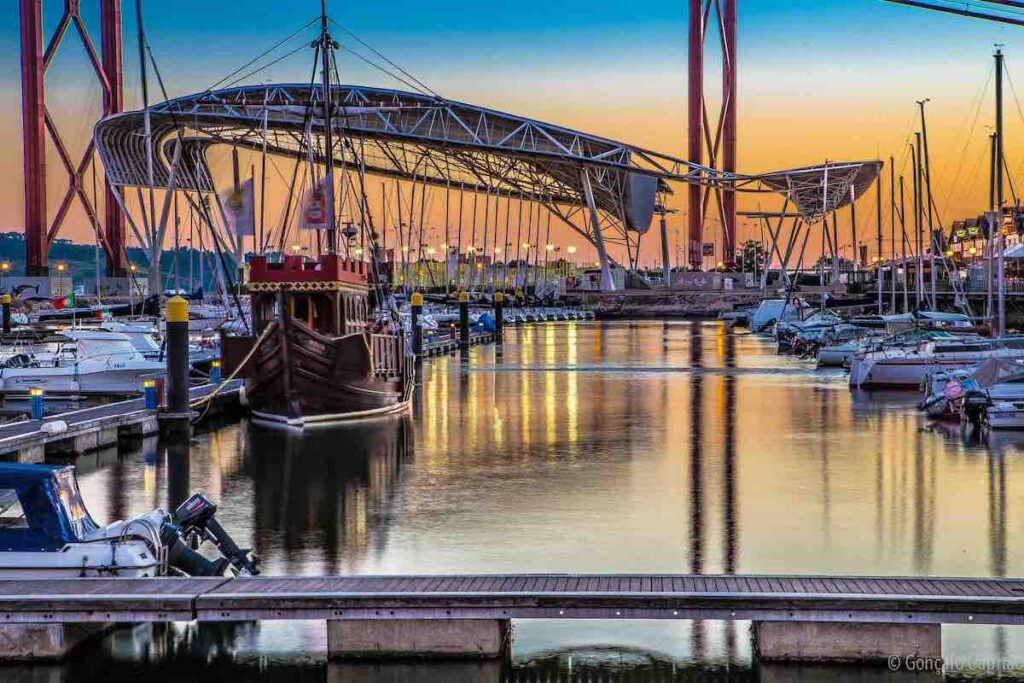 The 2km walk is much more pleasant. It takes you just below the 25th April Bridge to the "Doca Santo Amaro" harbour.
The quays are known as a popular walking area for Lisbon locals and tourists alike, with many restaurants and bars along the promenade. Doca Santo Amaro is also the starting point for our River Tagus cruises.
It's also just a few minutes away from the "little LX Factory district", which we highly recommend for people who like street art and original, quirky atmospheres and shops.
Where to stay em Belem
Modern: The Atlis Belem 5* Hotel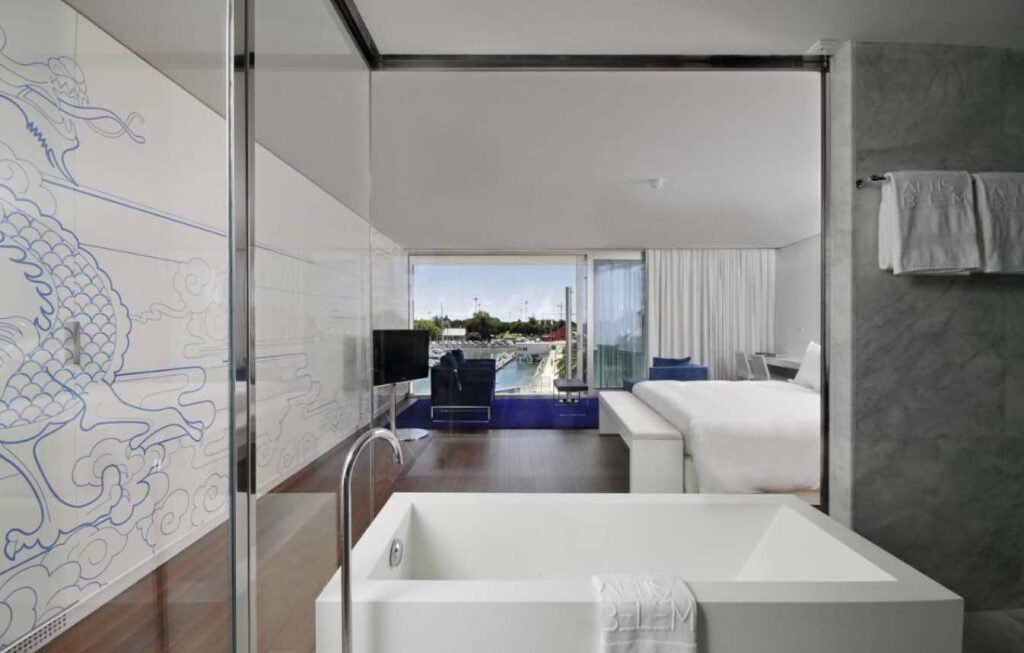 Located on the banks of the River Tejo, the Atlis Hotel offers panoramic views of the port, the Belem Tower, the Padrão dos Descobrimentos and the 25th April Bridge. You can also see the statue of Cristo Rei from the rooftop swimming pool.
The hotel's rooms are modern and comfortable, and its SPA is luxurious. It is not uncommon to see celebrities such as Madonna or footballers in this prestigious establishment.
The Hotel Atlis is also home to La Feitoria, one of the city's Michelin-starred restaurants. We invite you to read our article on the best restaurants in Lisbon to find out more about their culinary offerings.
Rate: 1 night for 2 people with breakfast, from €260
Doca do Bom Sucesso, 1400-038 Lisboa
With history: The Palacio do Governador 5* Hotel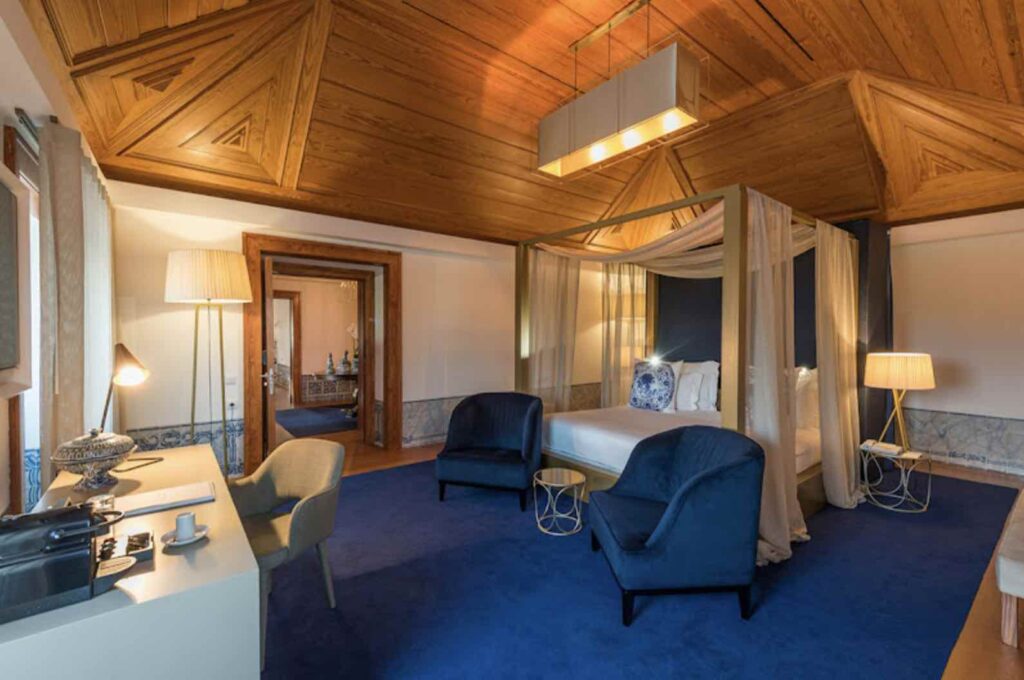 This hotel was once the residence of the first Governor of the Belem Tower: Gaspar de Paiva (1517).
It's a luxurious building full of history and azulejos, with great comfort and spacious rooms. It also has a beautiful SPA with indoor and outdoor swimming pools.
Rate: 1 night for 2 people with breakfast, from €162
R. Bartolomeu Dias 117, 1400-030 Lisboa
Green: Gerónimo Guest House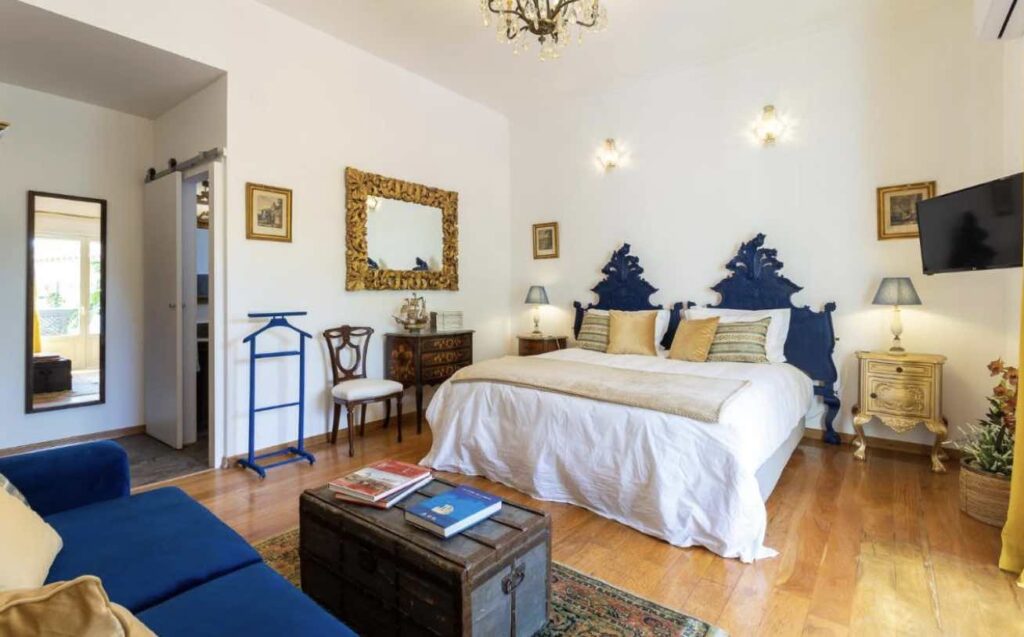 Our favourite place to stay in Belém. Located next to the magnificent Tropical Botanical Garden, it offers a very pleasant green setting. We also appreciate the extravagant decoration of its rooms, which will take you on a journey through time and history.
There is also a garden with deckchairs and jacuzzi, balconies and the possibility of family rooms.
Rate: 1 night for 2 people, from €110
R. 2 3, 1400-209 Lisboa
Epilogue
We hope this article has inspired you to visit or revisit the famous and magnificent district of Belém. You can create a shortcut directly on your mobile phone.
We also organise guided tours on foot or by tuktuk to accompany you if you wish to visit the incredible Jeronimo Monastery.