Cultural Discovery by Bike
Embark on a cultural discovery of Lisbon by bike! This human-scale capital allows you to explore the city in myriad ways, and over the past few years, cycling has become an excellent mode of transportation, thanks to the numerous bike lanes available.
Taibat is a resourceful young woman with incredible and contagious energy! She offers to accompany you for a few hours or a few days to explore Lisbon and its surroundings, following her passions: arts, cultural events, artisans, cycling, beaches, sports, photography, and videography.
Comfortably seated on her mountain bike, equipped with her camera that she never parts with, she will introduce you to her artistic and human insights about the locals and the city's nature, all while capturing this incredible moment with more skill than a Tour de France paparazzi!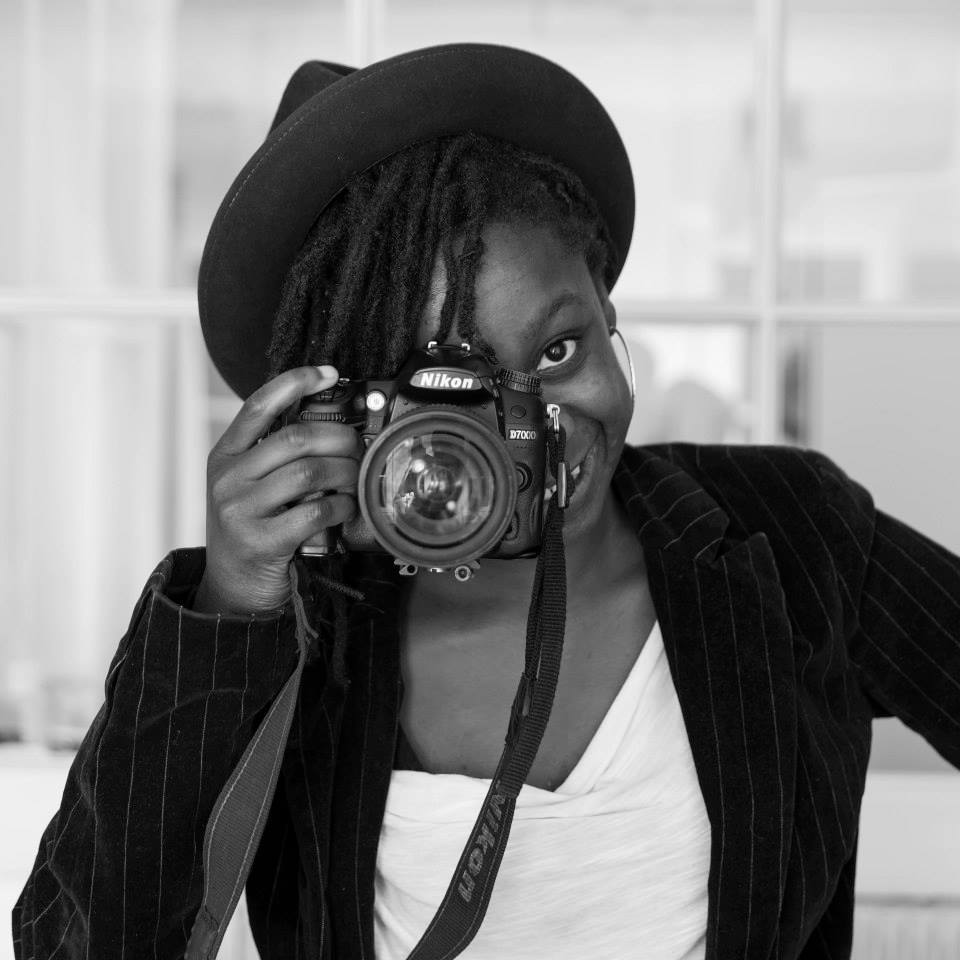 You will meet Taibat in the Penha da França neighborhood to pick up your perfectly maintained mountain bikes. Then, according to the program she will have specially designed for you, you will set off to meet talented and skilled artists and artisans, selected based on the 3D principle: Gifted, Gentle, and Funny, as you leisurely weave through the streets of our beautiful capital.
As often, an image speaks louder than a thousand words, so I'm sharing with you a souvenir video by Taibat
Wearing multiple hats, she is also a professionally trained photographer who creates photo and video documentaries that she delivers in record time, turning your meeting into an unforgettable memory.
The pricing for outings with Taibat.
Discover the charm of Lisbon with our minimum 3-hour adventures, priced at 80€ for up to 2 people, bikes included. Alongside these memorable experiences, we also provide captivating photos of each outing.
Booking conditions
Once your request has been sent, Taibat will contact you within 24 hours to confirm its availability or define another possibility that meets your expectations.
Once the time slot has been set, a pre-reservation will be made.
Taibat will then send you
– precise details of the meeting point
– as well as the payment details for the 50% deposit in order to validate the booking.
You will pay the balance at the meeting point.
Tips are well received in Portugal.
Terms and conditions of cancellation
In the event of cancellation 72 hours before the date of departure, the full deposit will be returned.
Postponements will be accepted where possible.
What happens in bad weather?
In the event of bad weather, Taibat may decide to cancel the outing.
In this case, there are two options: a postponement or a full refund of your booking.
What are the safety measures?
The bikes are regularly and perfectly maintained.
Helmets are provided.
Taibat is very friendly, attentive, and will alert you to any danger.
Minors must be accompanied by their guardian.
What Are the Prohibitions?
Cycling under the influence of drugs or alcohol,
disregarding traffic signals, or not following Taibat's instructions may result in the cancellation of the trip without compensation.
At "What to do in Lisbon," we prioritize safety and adherence to rules during your cycling adventure.
When to Arrive at the Meeting Point?
You should arrive at the meeting point 15 minutes before the scheduled departure with Taibat.
Detail of one of Taibat's bike trips
During a trip to Lisbon for a seminar, I took the opportunity to spend an extra weekend in the Portuguese capital.
Alone in Lisbon for those two days, I wanted to go and meet the liboets.
I discovered this activity thanks to the recommendation of a colleague who had done it himself a few months earlier.
My friend, who is 45 years old and not particularly sporty, assured me that if I wanted to experience something human, dynamic and full of life, it was with Taibat that I should discover the city!
After a few last-minute whatsapp exchanges with Taibat, my trip was booked for the following afternoon.
Meeting at 2pm with the bikes.
After a warm welcome, a briefing on how to use the bike, safety rules, signing the waiver in the event of an accident, a few pictures and an update on the programme, we set off with smiles on our faces to discover Taibat's artistic knowledge.
We first visited the vinyl shop – Tabatô Records at Rua de Arroios 11B, 1150-016 Lisbon, where we met Bastien. He specializes in Luso & tropical groove music, particularly African, Brazilian, and more.
Next, we passed through the city center to reach Largo Carmo. We went to meet Ricardo, who represents the collective "O Homem do Saco."
They specialize in screen printing-typography and small book editions. During the tour, we were received by either Luís or Ricardo, both of whom are fine arts professors.
After that, we headed to the river to meet Joao, a photographer specialized in the cyanotype method, which is one of the earliest photographic processes from 1848 by John Herschel, "a time when photographers were racking their brains to find a way to fix the image on a medium."
After that, I took advantage of all the recommendations Taibat had given me and I have to say that it was without doubt one of the best solo weekends I've ever had the pleasure of experiencing, with some great interactions!
Testimonials – What to do in Lisbon
Discover all the testimonials on our  Facebook page, and of course, leave your own!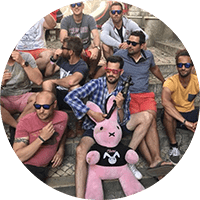 Nicolas Bossard
Bachelor Party Weekend
Tania is truly the ideal person for organizing your bachelor party, she can find everything and knows everyone, from daytime visits to the wildest nights in Lisbon. She knows it all!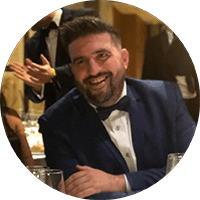 Kevin Dissane
Weekend with Friends
I recommend following the advice of this page and Tania.
We had a 5-day weekend with 20 friends for my 30th birthday, and it was perfect. Only great advice! I highly recommend 200%!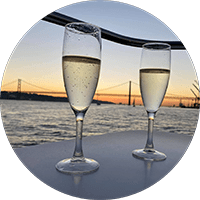 Lotigi Seb
Romantic Cruise on the Tejo River
A superb catamaran cruise just for the two of us, with a very discreet skipper and a magnificent sunset with Portuguese "champagne." The perfect place for a marriage proposal… 🙂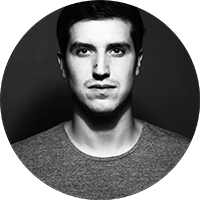 François da Silva
Tourist visit and tasting
We chose the "Tailor-made City Discovery" option for a private tour, and we were delighted! Our tour ended with a tasting of "petiscos" and Portuguese specialties. This visit is perfect at the beginning of your stay to enjoy the guide's recommendations (places to visit, restaurants, bars, nightlife) for the rest of your trip.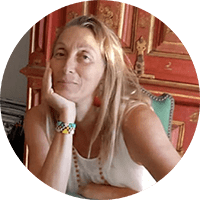 Anais Cabrol
Touristic Discovery and Street Art with Helena, 6h
A fantastic tour with Helena! She's an excellent guide! Very kind and accommodating to your preferences! A must-do during your stay in Lisbon. Doing this at the beginning of your trip will give you great recommendations for the rest of your stay!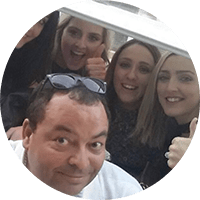 Jennifer Haguenier
Tuktuk Tour with Khalid
A 2-hour tuktuk tour organized almost last minute. We wanted to kickstart our stay with an overview of the city. Mission accomplished, thanks to the professionalism and responsiveness of the organizer and driver, Khalid. Thank you both. We ended up at a great restaurant recommended by our driver (dropped off right at the door) – top-notch!!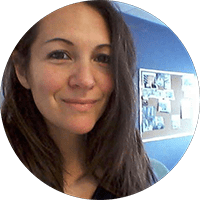 Karine Gagnon
Sailing trip to Arrabida to see the dolphins
We had a great time on a privately chartered sailboat for 6 people. The captain and skipper were very friendly and adapted to our mood. We originally planned for 2 hours, but eventually opted for 3 and didn't regret it. Thank you!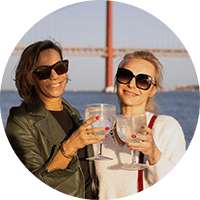 Nathalie Coto
Company outing on a 60-person catamaran
Everyone fell in love with the perspective offered by the catamaran on this beautiful city and the atmosphere that is both intimate and open, allowing for smoother conversations than in a restaurant. Beautifully presented bar and buffet dinner; the option to have our own music; a friendly and professional crew; and, before the event, Tania was always available to answer our questions. Thank you!!