Outdoor Sports Activities in Lisbon and Surroundings.
The weather allows us to enjoy outdoor sporting activities all year round.
Surfing, sea fishing, paragliding, jet skiing…
Outdoor Sports Activities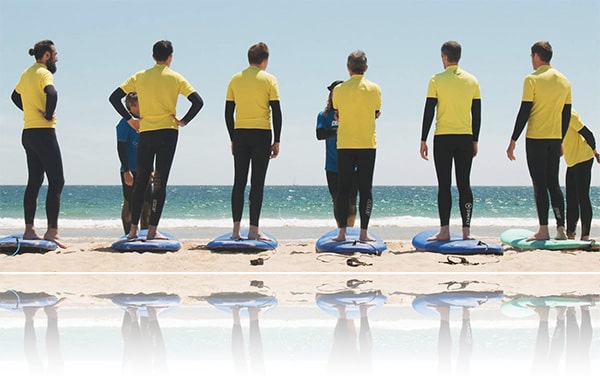 SURFING / INITIATION TO SURFING
Introduction to surfing with an instructor at Costa da Caparica, Carcavelos ou Guincho.
Price : 2h for €36 per person
Included : Equipment, licences, insurance and service.
Pack available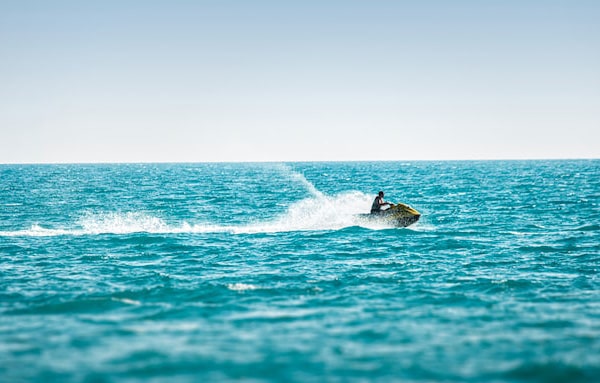 Jet-ski
Guaranteed thrills with our ultra-fast Yamaha VX 110, 3 persons
It',s necessary to have a recreational navigator's licence or to add the option with skipper.
Rates starting from 150€ per 2 hour.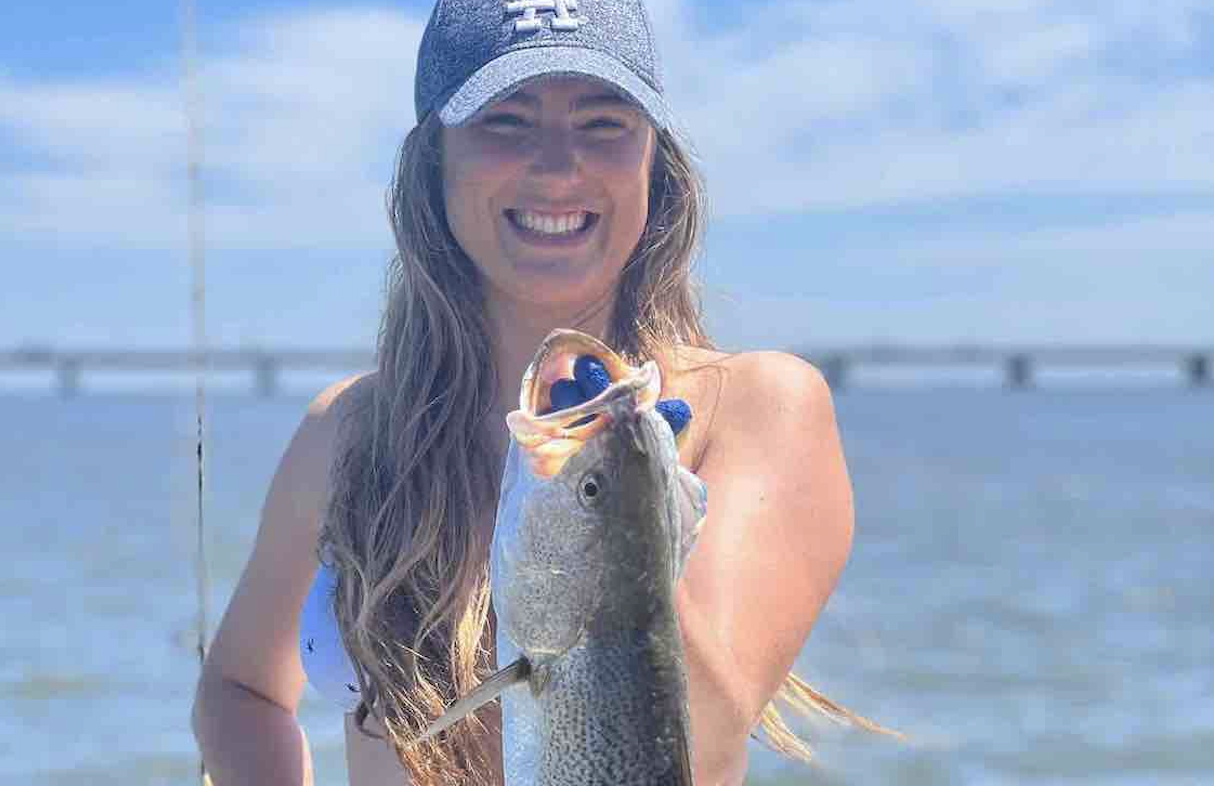 FISHING ON BOAT
Aboard a motorboat departing from Lisbon or Cascais, you'll fish for Bream, Cuttlefish, Hooks, …
Boats for 4 to 12 people
Prices from : €300 for 4h
Included : Equipment, rods, licences, fuel, snacks, drinks and service.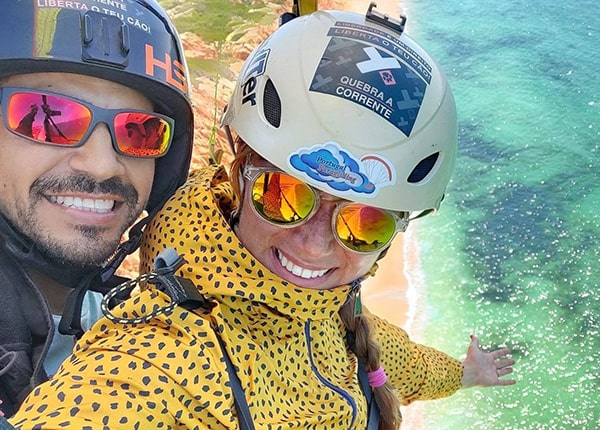 PARAGLIDING
Take off from the heights of Arrabida, Costa da Caparica, Sesimbra, and experience the thrill of soaring.
Price from: €95 for people 
Included: Equipment, insurance, licenses, and souvenir videos.
Paragliding Tandem Flight
Several spots on offer: Arrabida/Sesimbra town or Praia das Bicas – Fonte da Telha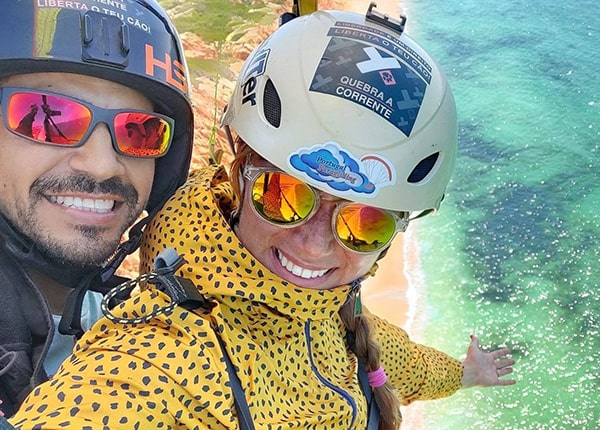 Looking for an extraordinary experience in a heavenly setting? Then paragliding is for you!
Paragliding requires impeccable organisation, mobility and, above all, a flexible schedule.
The place and date can only be definitively fixed 24 to 48 hours before the jump.
This activity is dependent on weather conditions, but thanks to the generous weather the country has to offer, jumps can be made all year round.
– Price : 95€
– Flight time : 30 minutes
– Souvenir video includes.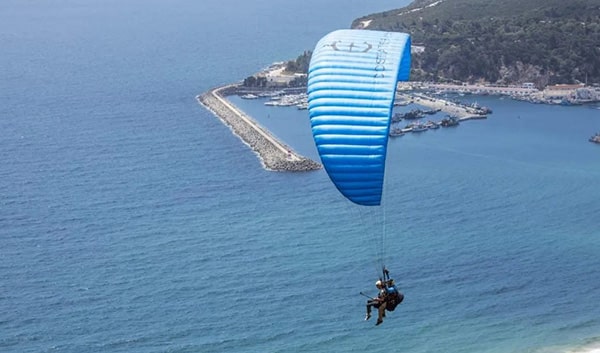 Paragliding is an aircraft derived from the parachute, allowing for the practice of free-flying with a sail.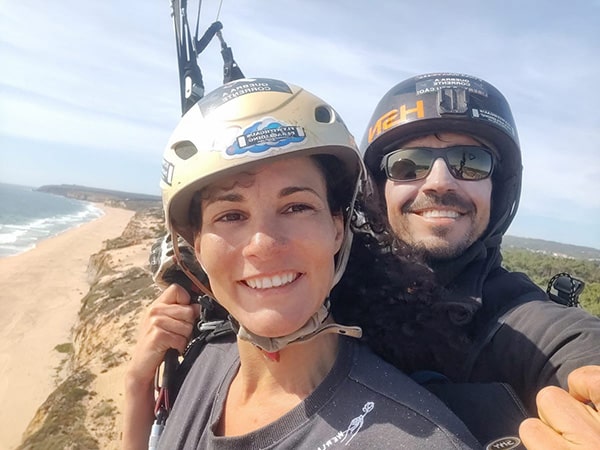 How does the experiment work?
Guided by one of our experienced tandem paragliding instructors, who have completed thousands of flights, you will soar over the beaches of Setubal Bay or the Atlantic coastline for approximately thirty minutes. The majority of the flight will be captured on film.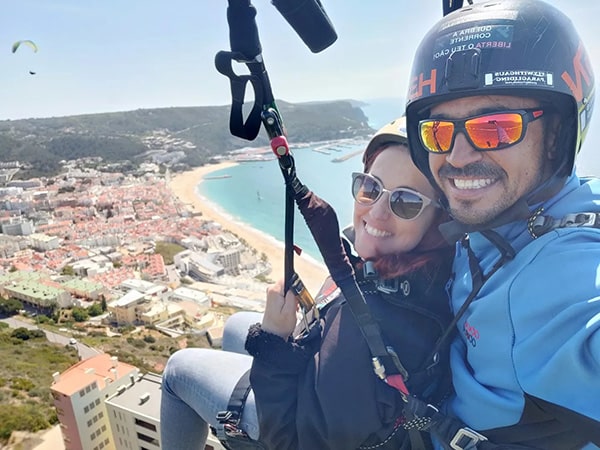 Both the date and location are subject to wind and weather conditions, but flights can be conducted any day of the week. Therefore, it's necessary to be flexible.
Possible departure points*:
Sesimbra Town
Sesimbra Beach
Arrabida
Fonte da Telha
*Certain locations are prohibited during the summer season.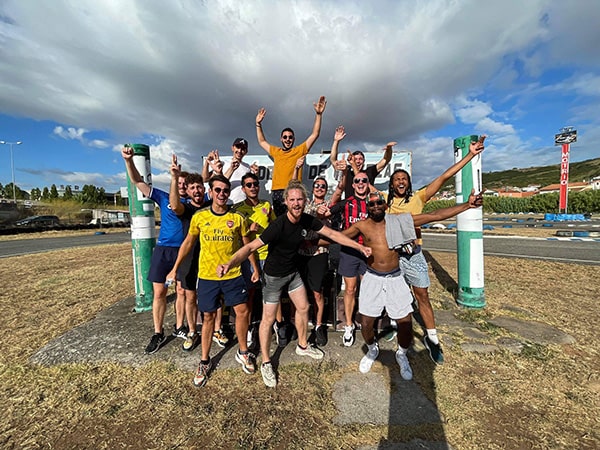 Prices for groups of 6 people or more

Enjoy a karting session in Lisbon, perfect for group outings such as EVGs or an outing with friends.
10 min training + 20 laps for 45 € per person
10 min training + 30 laps for 55€ per person
Includes: Equipment, licences, insurance and service.
Biking tour in Lisbon or to the beaches
Price per person including bicycle



Do you love the thrill of cycling and are you looking for an original way to discover the city?
Join Taibat for an out-of-the-ordinary excursion.
Taibat is a seasoned photographer worthy of the Tour de France. She'll be capturing the day in a photo report. She's a great lover of the country and will be delighted to share her cultural discoveries with you.
Make an enquiry and she'll get back to you with all the information you need to make up your ideal outing.
3h – €40 per person
6h – €70 per person
Up to 8 people.
Group rates for more than 4 people.
Includes: Helmets, perfectly maintained mountain bikes and photo report.
To explore Lisbon, you can take the metro to Cais do Sodré, catch the 714 bus or the 25 tram, and get off at Conde Barão. Your adventure begins by heading towards Alfama, the historic district, along the river to admire the vast shopping square.
Alfama reveals the traces of Arab and Roman occupation through its architecture, cuisine and even a few words. You can soak up the traditional fado music while admiring the superb scenery.
The city centre is also well worth a visit. Getting around on a Segway is fun and easier than in Alfama. You'll discover Lisbon's oldest café and shopping districts steeped in history. This district was rebuilt after the 1755 earthquake. Don't miss the best restaurants, lively nightlife areas, iconic churches and much more. Capture great photos from your Segway, immortalising all the sights and landscapes you encounter.
What are cooking conditions ?
Once your request has been sent, we will contact you within 24 hours to confirm the availability of your activity or to define another possibility that meets your expectations.
Once the slot has been confirmed, a pre-booking will be put in place.
The agent will send you
– payment details to confirm your booking,
– then precise directions to the meeting point.
What are cancellation conditions ?
In the event of cancellation 72 hours before the date of departure, the full deposit will be returned.
A postponement is authorised.
What happens in bad weather?
The activity leader may decide to cancel the outing.
In this case, there are two options: a postponement or a full refund of the booking.
What are the safety measures?
All the activity managers have several years' experience. They are professional, friendly and attentive to your safety, using perfectly maintained equipment.
For water activities, life jackets for all ages are available.
Helmets are available for activities on the ground or in the air.
The person in charge has the authority to cancel the activity if the safety conditions are not/no longer met.
What does the price include?
– Activities supervised by professionals,
– insurance,
– authorisation,
– service,
– maintained equipment,
– and VAT in force.
What should I bring?
For water sports activities:
– swimming costume,
– sunglasses
– beach towel
– hat/cap
– sun cream…
For activities on the ground or in the air :
– good sports shoes
– comfortable clothing
– sun protection,
– and water.
And your good mood!
What is not authorised?
– Showing up under the influence of drugs or alcohol.
– Booking unaccompanied minors.
– Failure to comply with safety instructions.
In these cases, the activity may be cancelled without compensation.
What time should I arrive at the meeting?
You should arrive at the meeting point 30 to 15 minutes before departure.
2.5-hour tour of the hills on an electric bike
Uncover the hidden wonders of Lisbon's 7 hills by opting for an electric bike ride, discovering much more than just a traditional tourist tour.
Electric bikes, easy to maneuver, environmentally friendly, and featuring a sleek vintage design that catches the eye of passersby as you explore the charming neighborhoods of Alfama, Mouraria, and Graça, renowned for their rich historical heritage within the Portuguese capital.
Cruise to vantage points to admire breathtaking panoramas while passing by antique shops and quaint eateries throughout your journey. Immerse yourself in the city and its inhabitants from a unique perspective that holds unforgettable surprises.
Testimonials – What to do in Lisbon
Discover all the testimonials on our  Facebook page, and of course, leave your own!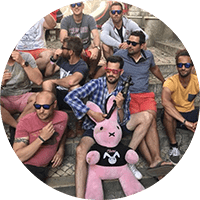 Nicolas Bossard
Bachelor Party Weekend
Tania is truly the ideal person for organizing your bachelor party, she can find everything and knows everyone, from daytime visits to the wildest nights in Lisbon. She knows it all!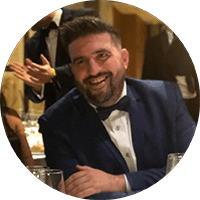 Kevin Dissane
Weekend with Friends
I recommend following the advice of this page and Tania.
We had a 5-day weekend with 20 friends for my 30th birthday, and it was perfect. Only great advice! I highly recommend 200%!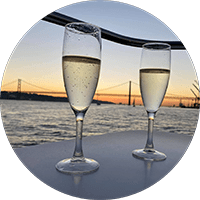 Lotigi Seb
Romantic Cruise on the Tejo River
A superb catamaran cruise just for the two of us, with a very discreet skipper and a magnificent sunset with Portuguese "champagne." The perfect place for a marriage proposal… 🙂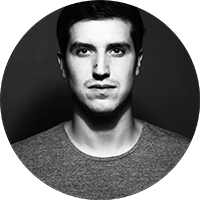 François da Silva
Tourist visit and tasting
We chose the "Tailor-made City Discovery" option for a private tour, and we were delighted! Our tour ended with a tasting of "petiscos" and Portuguese specialties. This visit is perfect at the beginning of your stay to enjoy the guide's recommendations (places to visit, restaurants, bars, nightlife) for the rest of your trip.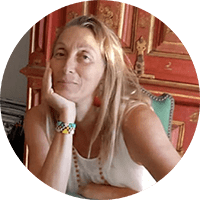 Anais Cabrol
Touristic Discovery and Street Art with Helena, 6h
A fantastic tour with Helena! She's an excellent guide! Very kind and accommodating to your preferences! A must-do during your stay in Lisbon. Doing this at the beginning of your trip will give you great recommendations for the rest of your stay!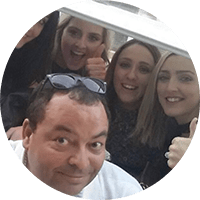 Jennifer Haguenier
Tuktuk Tour with Khalid
A 2-hour tuktuk tour organized almost last minute. We wanted to kickstart our stay with an overview of the city. Mission accomplished, thanks to the professionalism and responsiveness of the organizer and driver, Khalid. Thank you both. We ended up at a great restaurant recommended by our driver (dropped off right at the door) – top-notch!!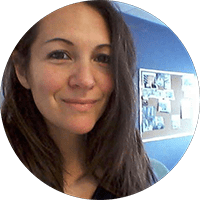 Karine Gagnon
Sailing trip to Arrabida to see the dolphins
We had a great time on a privately chartered sailboat for 6 people. The captain and skipper were very friendly and adapted to our mood. We originally planned for 2 hours, but eventually opted for 3 and didn't regret it. Thank you!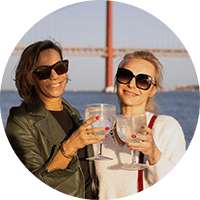 Nathalie Coto
Company outing on a 60-person catamaran
Everyone fell in love with the perspective offered by the catamaran on this beautiful city and the atmosphere that is both intimate and open, allowing for smoother conversations than in a restaurant. Beautifully presented bar and buffet dinner; the option to have our own music; a friendly and professional crew; and, before the event, Tania was always available to answer our questions. Thank you!!