10 Authentic and Cheap Restaurants for Less than €15
There are still authentic and cheap restaurants in the heart of Lisbon where you can dine affordably, sometimes with complete menus for less than €15. These 'tascas' or 'cantinas' as they're called in Portugal.
You'll notice that:

These are the kind of restaurants where you'll find menus written with a marker on paper tablecloths.
You'll see menus that list '1/2 dose' or '1 dose'. 1 dose is usually suitable for two people.
And don't forget, 'couverts' are the little appetizers like olives, spreads, cheese, butter, bread, etc., placed on the table at the beginning of the meal and charged separately. If it's your first time visiting the capital, check out this article: When Visiting Lisbon for the First Time.
Now, let's dig in!
Adega do Manel | Baixa Chiado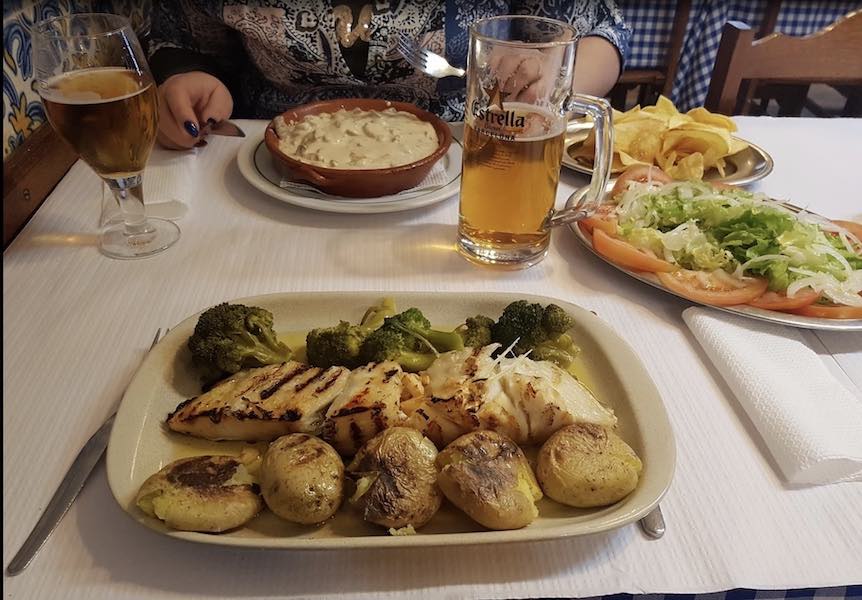 This small restaurant in the city center offers traditional Portuguese cuisine, including meat and fish dishes. Specialties include fried codfish and tripe à la mode de Porto. The ambiance is warm and welcoming, with a simple and rustic decor.
Open Monday and Tuesday from 9 am to 4 pm | Wednesday to Friday from 9 am to 10:30 pm
Complete menus for less than €15
R. da Madalena 94, 1100-331 Lisbon
A Licorista e o Bacalhoeiro | Baixa Chiado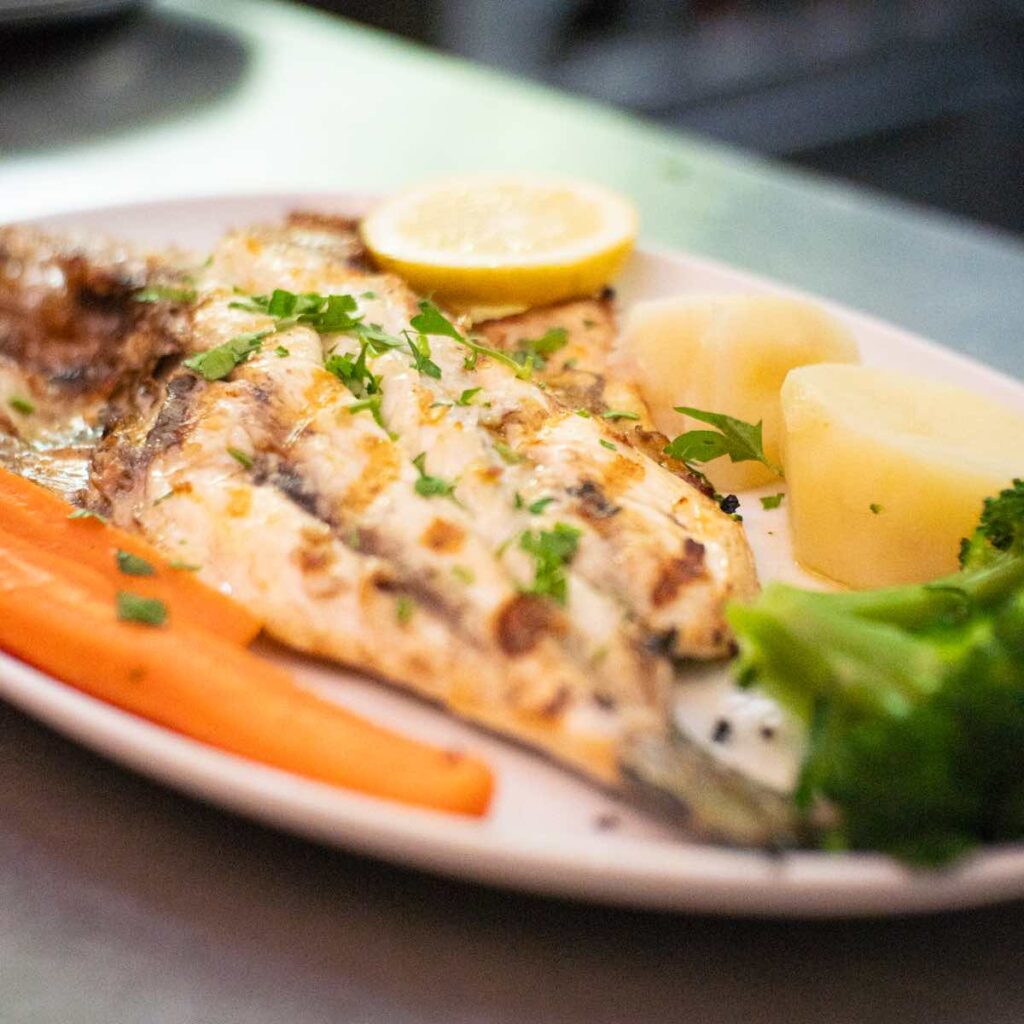 A Licorista specializes in traditional cuisine and offers flavorful dishes at reasonable prices. Here are some of the dishes offered by the restaurant for less than €15:
Bacalhau à Brás: a dish of shredded cod mixed with onions, fried potatoes, scrambled eggs, and olives. This is a very popular dish in Portugal and costs around €13.
Arroz de Polvo: a dish of rice cooked in octopus broth, served with tender and flavorful pieces of octopus. This dish costs around €14.
Pastéis de Bacalhau: fried pastries made with salted codfish and potatoes, crispy on the outside and tender on the inside. This appetizer costs around €3.
These dishes are all very popular in Portugal, and A Licorista prepares them with fresh and quality ingredients. The restaurant also offers a selection of Portuguese wines to accompany the meals.
Open Monday to Saturday from 12 pm to 3 pm and 7 pm to 11 pm
R. dos Sapateiros 218, 1100-587 Lisbon
A Provinciana | Baixa Chiado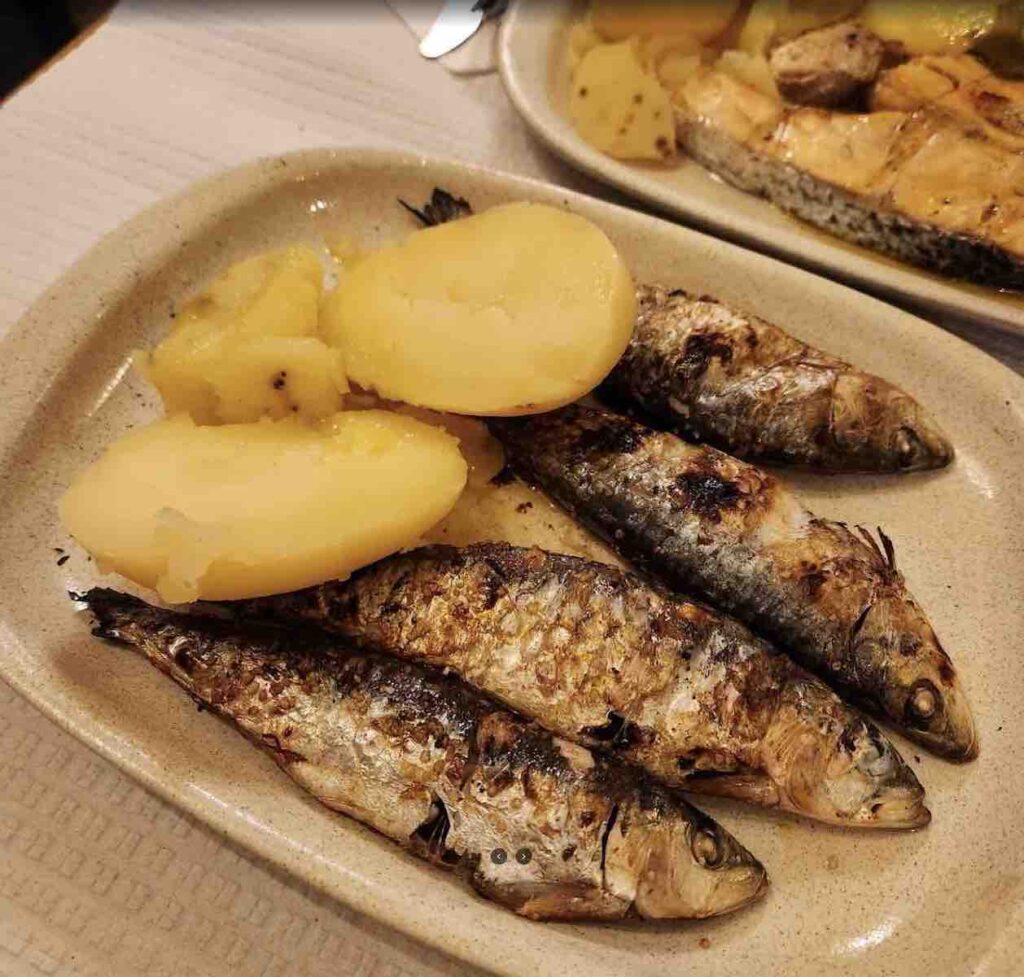 This restaurant, or rather 'Tasca', is perfect for the phrase 'no frills, no fuss'. A typical and authentic Portuguese menu with soup as an appetizer, a hearty dish (codfish, pork, sardines, etc.), a drink, and coffee for less than €15.
With luck, you might even find the famous 'Arroz de Cabidela', a traditional dish from the Minho region. To prepare the dish, chicken is cut into pieces and cooked with onions, garlic, spices, and vinegar. The chicken's blood is then added to give the dish its color and distinctive flavor. Rice is added next, simmering in the sauce until cooked and infused with all the flavors of the dish. It might sound intimidating, but trying it is adopting it!
It's not uncommon to wait in line to get in, but don't hesitate to fetch an 'Imperial' beer at the bar, Sagres or Super Bock. You get to choose your camp!
Open Monday to Saturday from 12 pm to 3:30 pm and 7 pm to 10 pm
Tv. do Forno 23, 1150-193 Lisbon
Cerqueira Restaurant | Martim Moniz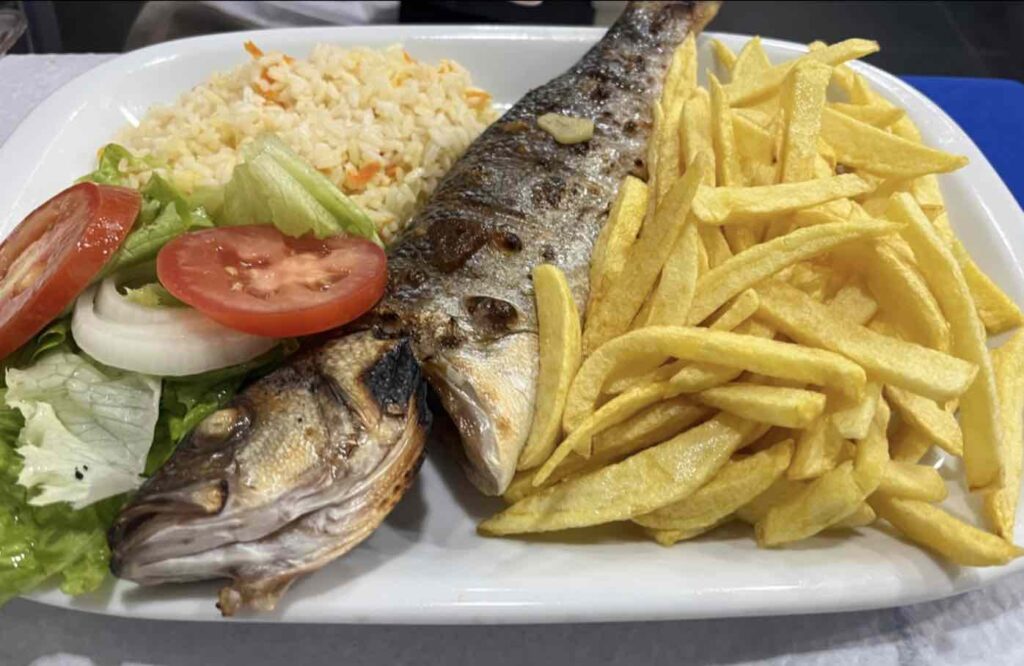 restaurants cheap Lisbon
Not far from Martim Moniz Square, you'll find this small, unpretentious restaurant with unbeatable prices. I wouldn't recommend the chicken, but the fish dishes like dorado or swordfish (espada) are the most interesting on the menu. Fresh, perfectly grilled, great for a low-calorie meal at an affordable cost. Dishes range from €10 to €14.
Open Monday to Friday from 6 pm to 11 pm | Saturday-Sunday from 12 pm to 3 pm and 6 pm to 11 pm
CC de Sant'Ana 49, 1150-301 Lisbon
Frangasqueira Nacional | Principe real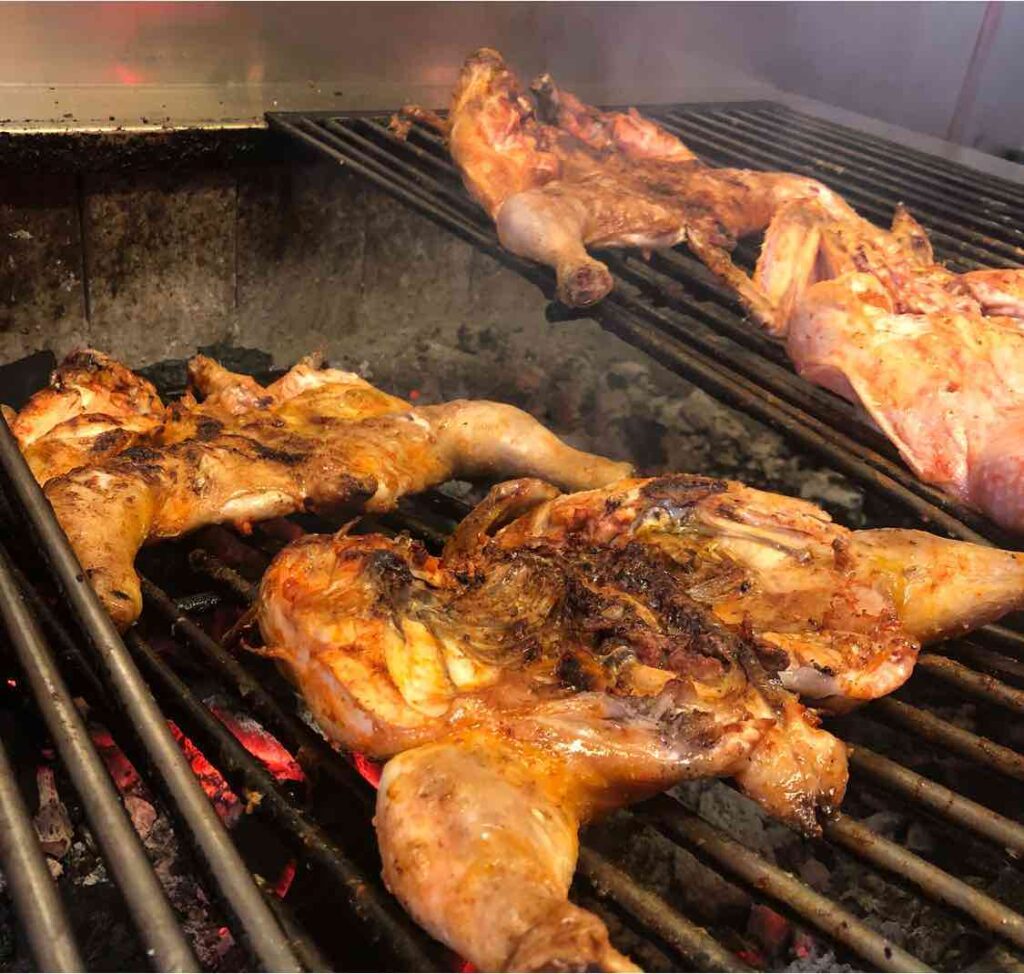 This small restaurant with limited seating is known for its grilled meat dishes, especially grilled chickens that you won't want to miss. It's a whole chicken marinated in a sauce made from garlic, lemon, olive oil, and herbs, then slowly grilled over charcoal or wood fire. The chicken is basted with marinade during cooking to give it an even richer and more flavorful taste. The final result is juicy and tender chicken with a crispy, golden skin.
Their standout is, of course, their sauce. No good grilled food without good sauce (o piri-piri for us)! As a side, this restaurant offers nice composed salads.
The atmosphere is casual and lively, and we appreciate the few outdoor tables. Whole marinated grilled chicken for €8.
Open Monday, Thursday to Saturday from 6:30 pm to 10 pm
Tv. Monte do Carmo 19, 1200-276 Lisbon
A Merendeira | Santos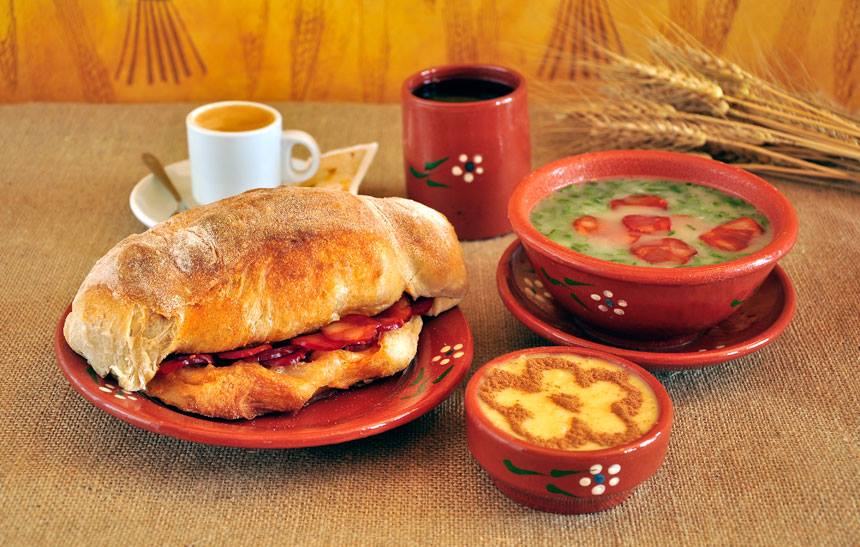 This Portuguese snack bar is open every day/night until 7 am and offers a €6.30 menu:
The famous caldo verde (green soup), pão com chorizo (bread with chorizo), a drink, rice pudding, and coffee. It's fresh, simple, and hearty. Much healthier than any fast food.
A true institution for us Portuguese, thousands of Pão com Chorizo are baked in wood-fired ovens every week. A mandatory stop after an aperitif to ensure a good night's sleep before heading home.
Open every day from 11 am to 7 am No credit cards / Cash only
More restaurants for eating after midnight
Av. 24 de Julho 54, 1200-657 Lisbon
O Bitoque da Mouraria | Mouraria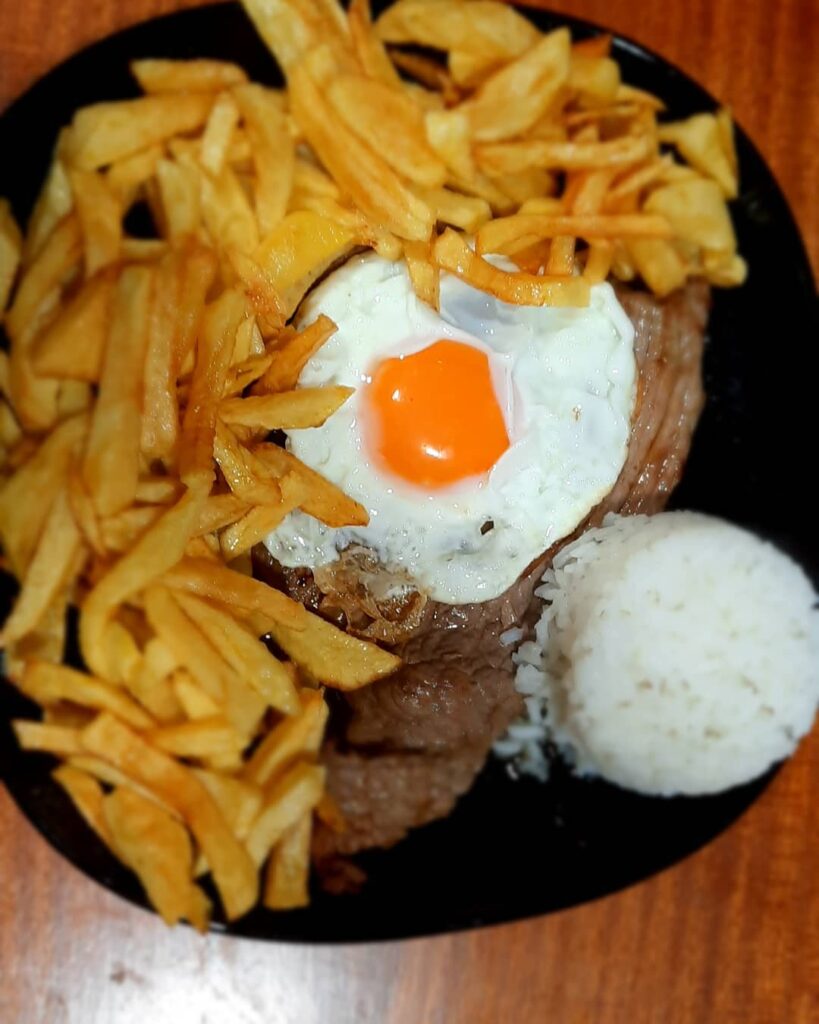 Bitoque is a traditional Portuguese dish consisting of beef steak, usually served with fries, rice, salad, and a fried egg on top. The meat is marinated in a sauce made from garlic, olive oil, white wine, and bay leaves before being grilled or pan-fried. Simple but effective, just like this address. You'll find several typical dishes, like the famous Francesinha, at a lower cost but with generous portions!
Open Monday to Saturday from 9 am to 12 am
R. das Olarias, 1100-380 Lisbon
O Cartaxinho | Avenida das Liberdade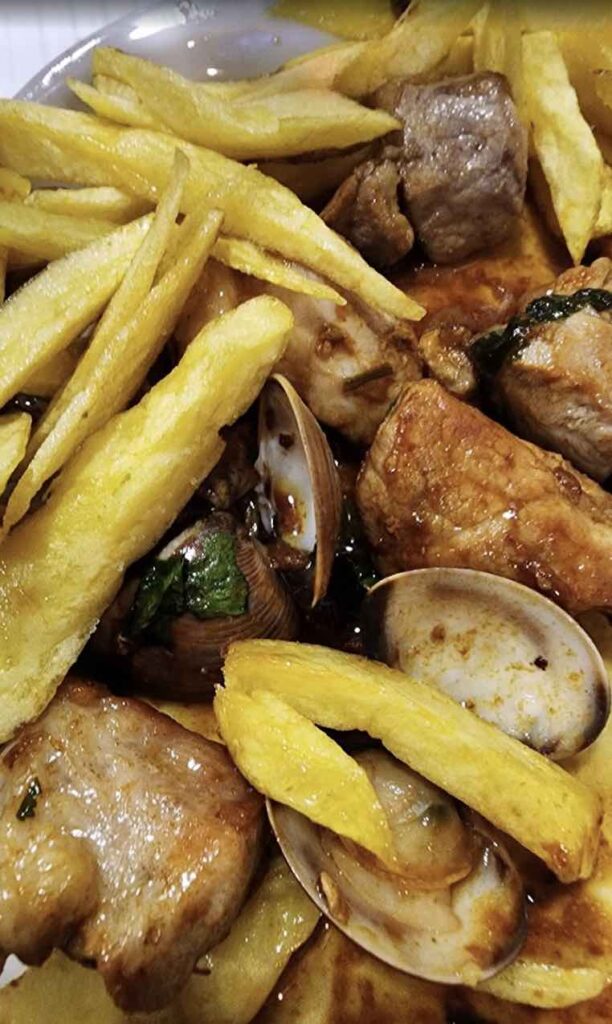 This cozy little restaurant offers traditional Portuguese dishes such as Carne Alentejana, seen in the photo.
Carne Alentejana is a traditional dish that gets its name from the region located in the south of the country. It's a dish that combines pork and clams, offering a contrast between tender meat and fresh seafood.
This typical Carne Alentejana recipe involves marinating pork in garlic, white wine, and spices, then sautéing it with onions and bacon. Clams are then added until they open, infusing the dish with their sea flavor.
This dish is often served with fried potatoes and a green salad. It's a hearty and delicious dish that offers a unique blend of flavors and textures.
The average price of the dishes is around €10.
Open Sunday to Friday from 12 pm to 10:30 pm
R. de Santa Marta 20B, 1150-295 Lisbon
O Trevo | Bairro Alto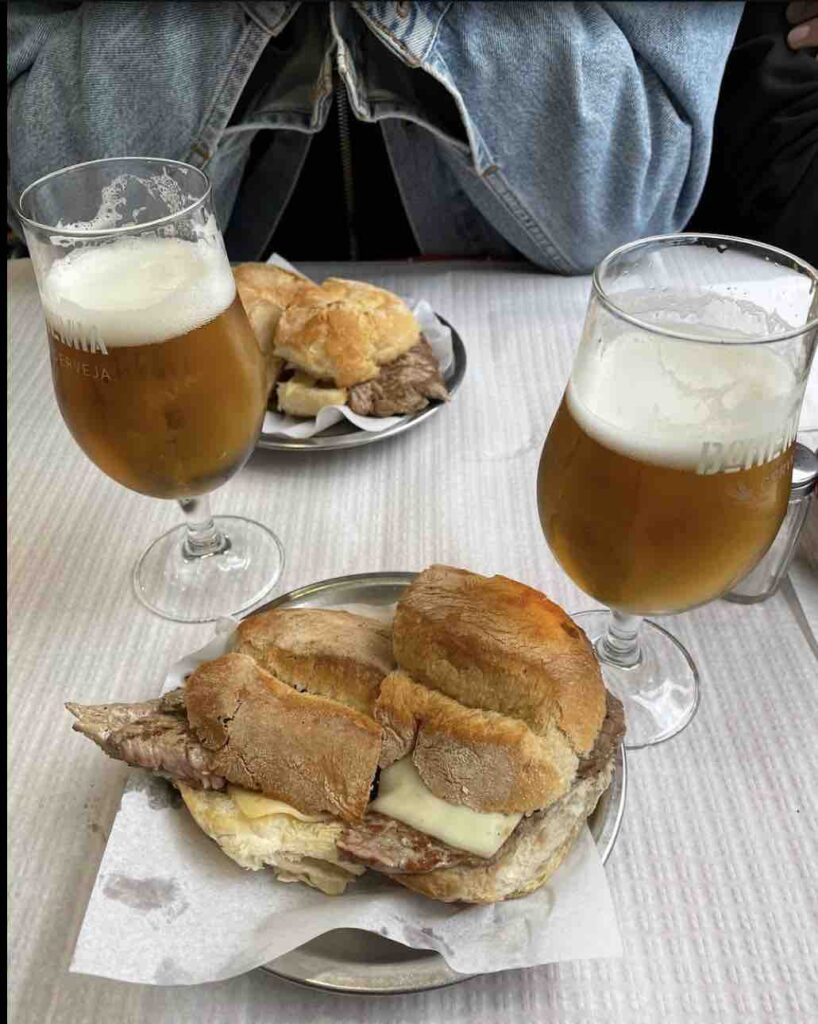 This small family restaurant offers simple and tasty cuisine, with specialties such as cozido à portuguesa and frango no churrasco (grilled chicken), and especially the famous Bifanas.
Bifana is a pork sandwich garnished with Portuguese mustard, onions, and other ingredients as desired. The name 'bifana' comes from the Portuguese word 'bife', which means 'steak'.
To prepare bifanas, we cut pork into thin slices and marinate them in a sauce made from garlic, bay leaves, white wine, and other spices. The pork slices are then grilled or pan-fried until golden and tender. The sandwiches can be served with fries, salad, or other sides according to preferences. It's a quick and tasty meal option, whether for lunch or a late-night snack.
Open Monday to Saturday from 7 am to 10:30 pm
Average price of a bifana: €4
Praça Luís de Camões 48, 1200-283 Lisbon
Super Mário | Baixa Chiado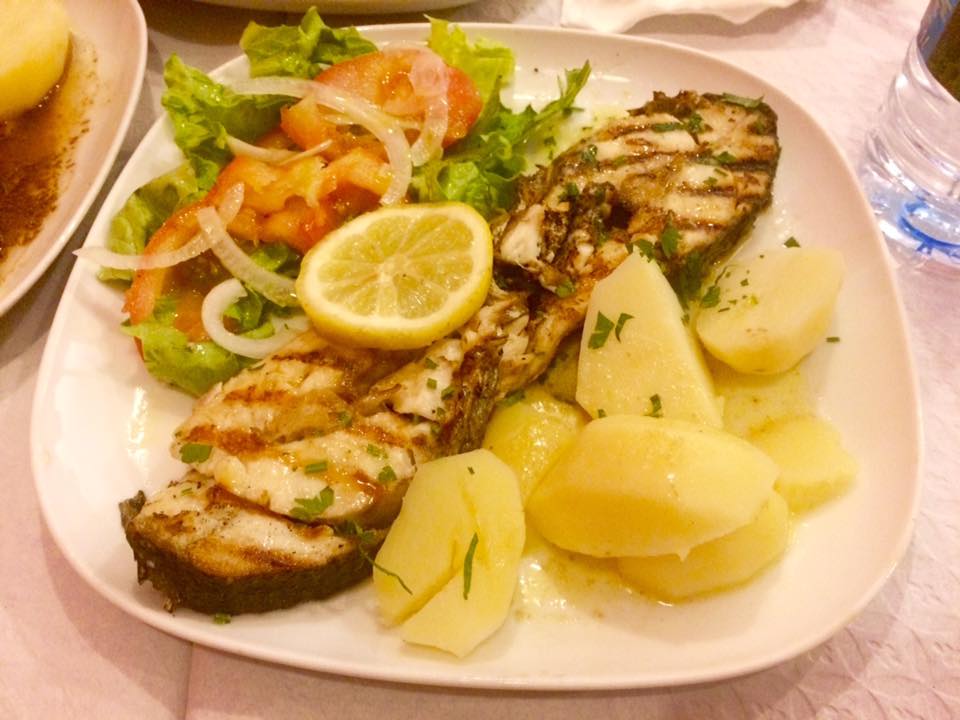 Not far from Bairro Alto, you'll find this tasca that offers this carrot rice we particularly appreciate. Along with tomato rice and the delicious Polvo a Lagareiro (octopus with garlic and olive oil) with prices for 1/2 dose – 1 dose.
Average price per person with house wine and dessert: €15
Open Monday to Saturday from 12 pm to 10:30 pm
R. do Duque 9, 1200-158 Lisbon

Epilogue
We hope these recommendations will help you discover a part of Portuguese cuisine at a lower cost in authentic and affordable Lisbon restaurants. Just like us, you'll enjoy exploring these particularly genuine places.
We also invite you to subscribe to our newsletter to keep up with our discoveries.