A romantic break in Lisbon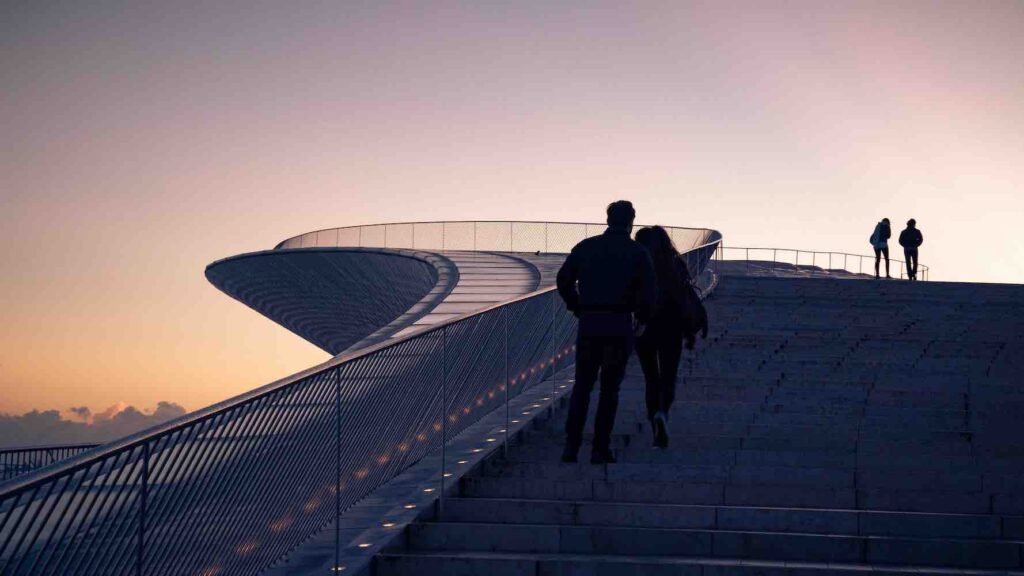 In this article we present
Practical and intimate transport solutions
Ideas for comfortable, romantic and original accommodation
day and night activities to seduce your other half,
good places to eat, drink and dance in an atmosphere conducive to trust and intimacy.
Travel Solutions – Lisbon and Surroundings
The most practical, economical and quickest options are and will remain taxis, Uber and Bolt (after walking, of course 😅 ). But you can also read this article about public and alternative transport solutions.
Charming accommodation – Lisbon and surroundings
Accommodation can be the most important part of your trip. Lisbon and the surrounding region are full of places to stay, each more exceptional than the last. We've put together a fine selection for you.
Top Hotels with SPA
It's impossible to choose just one address, so we're offering you two options: one modern and sophisticated, the other historic and prestigious, both in Belem.
The Altis Belem Hotel 5*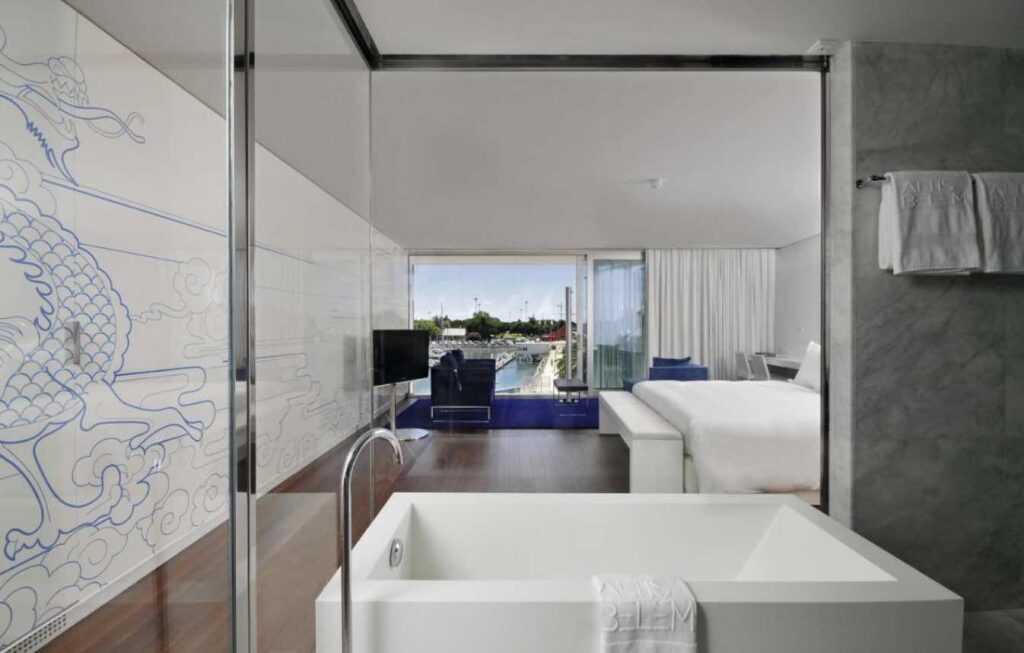 Located on the banks of the River Tejo, the Atlis offers a bird's eye view of the harbour, the Belém Tower, the Padrão do Descobrimentos, the 25th April Bridge and the Cristo Rei.
The pluses: comfortable, modern rooms, access to the SPA and rooftop swimming pool and gourmet restaurant run by chef André Cruz (see The best restaurants with tasting menus).
The reputation of the Atlis hotel chain is well established. In fact, it's not unusual to meet celebrities such as Madonna or certain footballers.
Approximate price: 1 night for 2 people, breakfast included, from €260
Doca do Bom Sucesso, 1400-038 Lisboa
Palacio do Governador 5*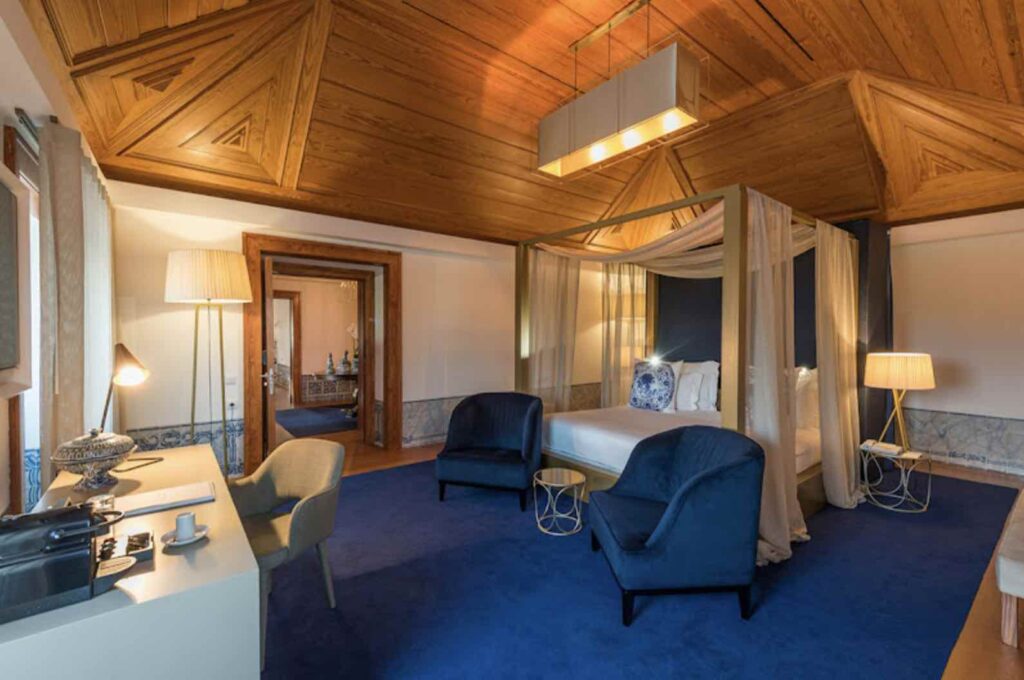 This hotel was once the residence of the first Governor of the Tower of Belém: Gaspar de Paiva (1517).
It's a luxurious building full of history and azulejos, very comfortable, also equipped with a SPA and a large outdoor swimming pool.
Indicative price: 1 night for 2 people with breakfast, from €162.
R. Bartolomeu Dias 117, 1400-030 Lisboa
Our favourite: La Venus de Lisboa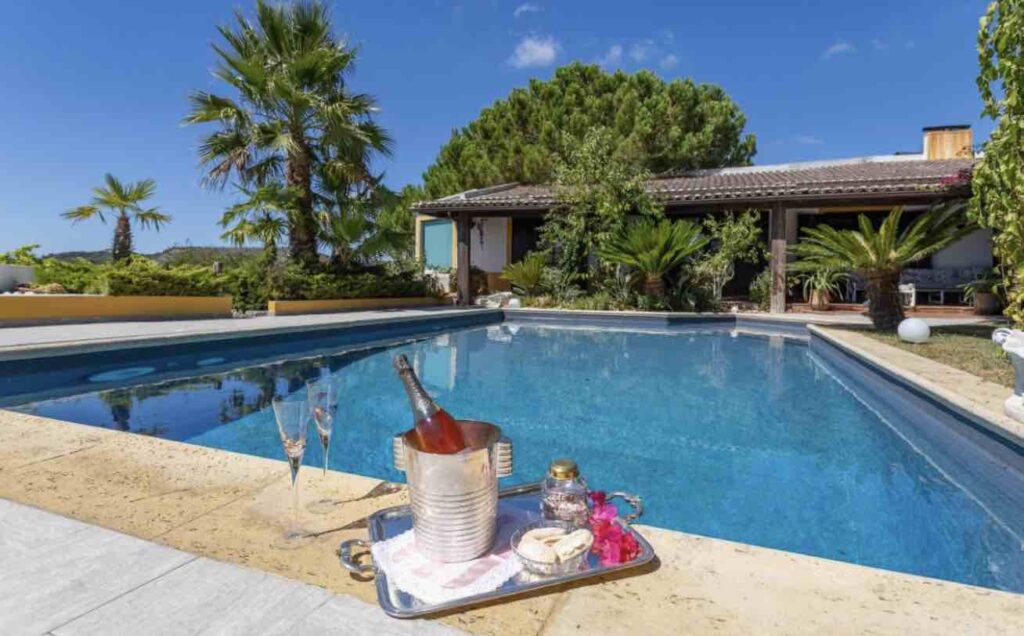 Located 30 minutes north of Lisbon, this place is ideal for couples looking for peace and privacy for a getaway in the heart of lush nature.
Escape to the luxury and comfort of an inspiring and truly different place!
La Vénus de Lisbonne offers themed rooms with a distinct personality, romantic and sensual. It has an outdoor swimming pool, heated in season, and a private outdoor SPA area.
Use the code Amor2023 for a 5% discount on your room and a welcome cocktail.
One night from €120 for two people, breakfast included.
RUA DO MATO FORTE – QUINTA DO MONTE DAS ABELHAS – CASAL DO,
Túnel de Mato Forte, 2615-631 Calhandriz
The best location with the best view of the city centre
H10 Duque de Loulé 4*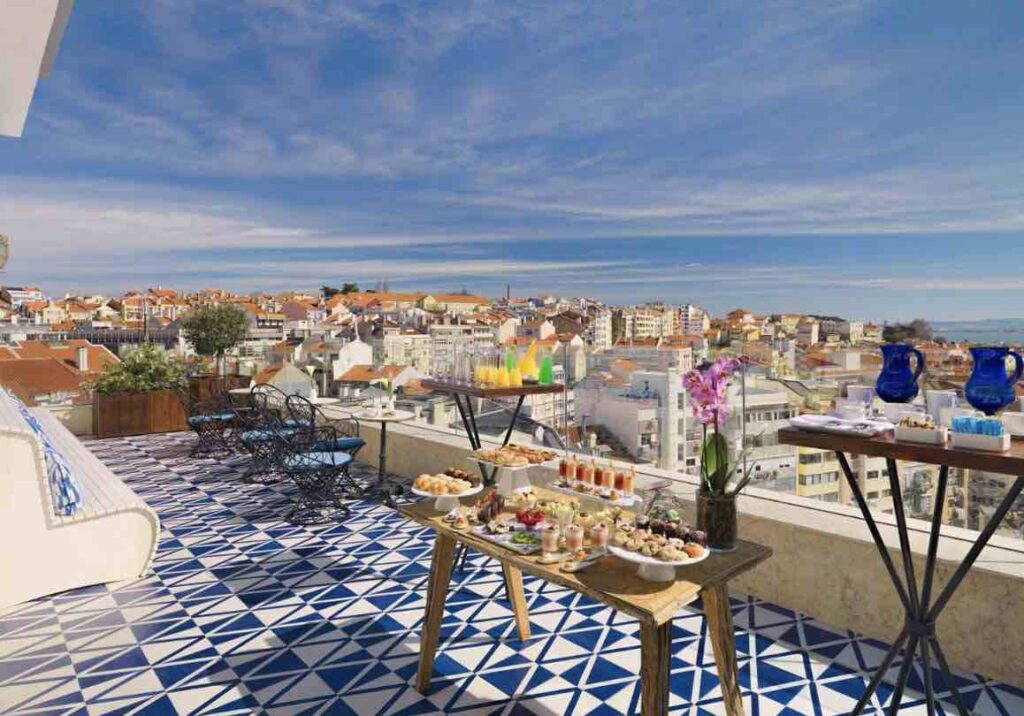 Just 2 minutes from the Marques Pompal roundabout, this blue and white hotel has undeniable charm.
It is easy to fall under its spell with its excellent restaurant and, above all, its magnificent rooftop terrace, both of which are open to non-residents of the hotel.
Indicative price: 1 night for 2 people with breakfast from €160
Av. Duque de Loulé 81 83, 1050-088 Lisboa
The most original
"The Home Boat"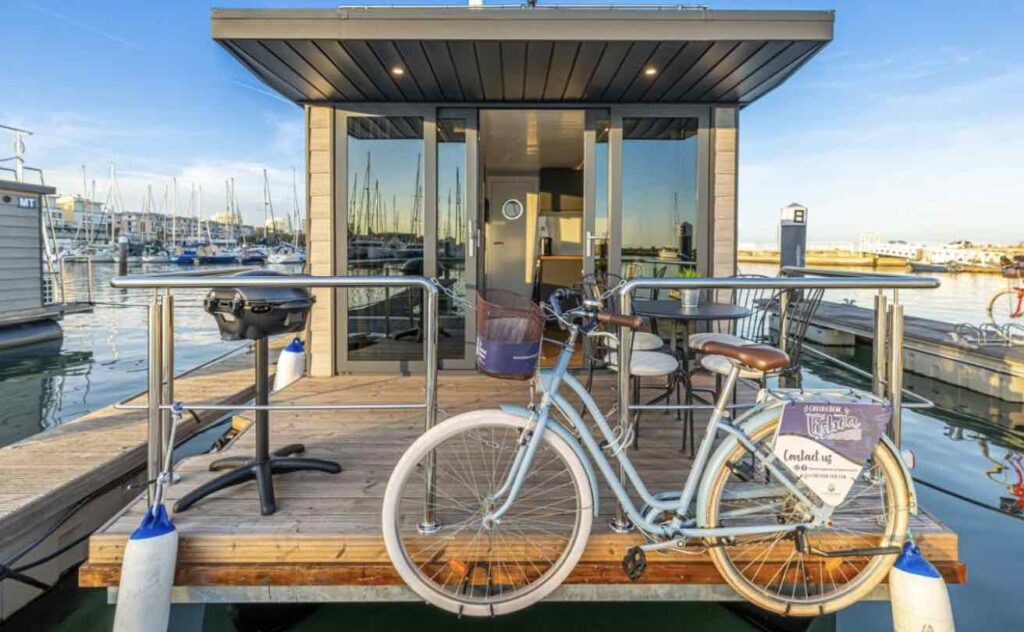 Moored at the marina of the Parque das Nações, you'll be able to enjoy all the comforts of a small house on the water.
The experience is a pleasant one and your guest will be positively surprised.
Rooftop Jacuzzi option available.
Indicative price: 1 night for two people from €150
Pontão E Edifício da Capitania, Passeio Neptuno, 1990-193 Lisboa
Small price, big charm
Garam Lisboa Guesthouse 4*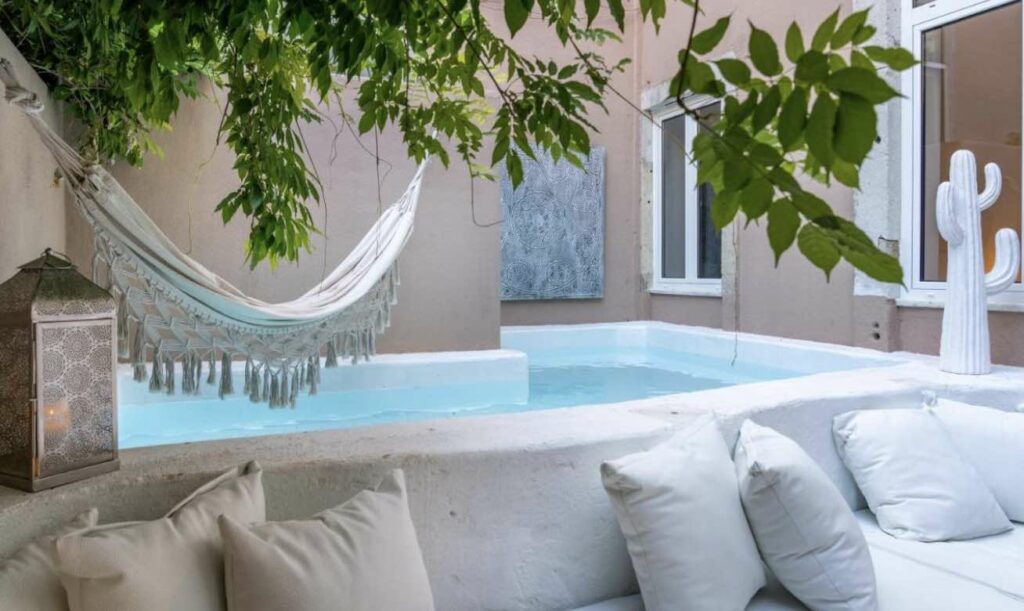 Located in the Alcântara district (near the 25th April Bridge), this guesthouse has a chic bohemian interior and a small outdoor pool for hot days.
Approximate price: 1 night for two people with breakfast from €93.
Tv. Sacramento a Alcântara 5,
Walks, visits and activities in and around Lisbon
Here are some things to do and see, but if you don't want to leave your accommodation, we won't hold it against you.
Romantic Boat Trip – on the River Tagus
Whether private or group, during the day, in the late morning or at sunset, a boat trip on the Tejo is always a success. Make yourself comfortable and glide along the water to discover the city's banks.

Group excursions from €30 per person
Sailboat charter from €170 with white wine and snacks
Discover Lisbon's historic districts
Visiting Lisbon is a pleasure. It's impossible not to plan at least one day to get lost in the historic districts and discover
The charm and history of the Alfama,
Mouraria and its Fado, ….
You can consult our file on the city's must-see neighbourhoods.
Book a private tour on foot, by tuk-tuk or sidecar with one of our guides who are passionate about the city.

It's a good idea to make this appointment at the beginning of your stay, so that you can benefit from as much good advice as possible.
Discover Sintra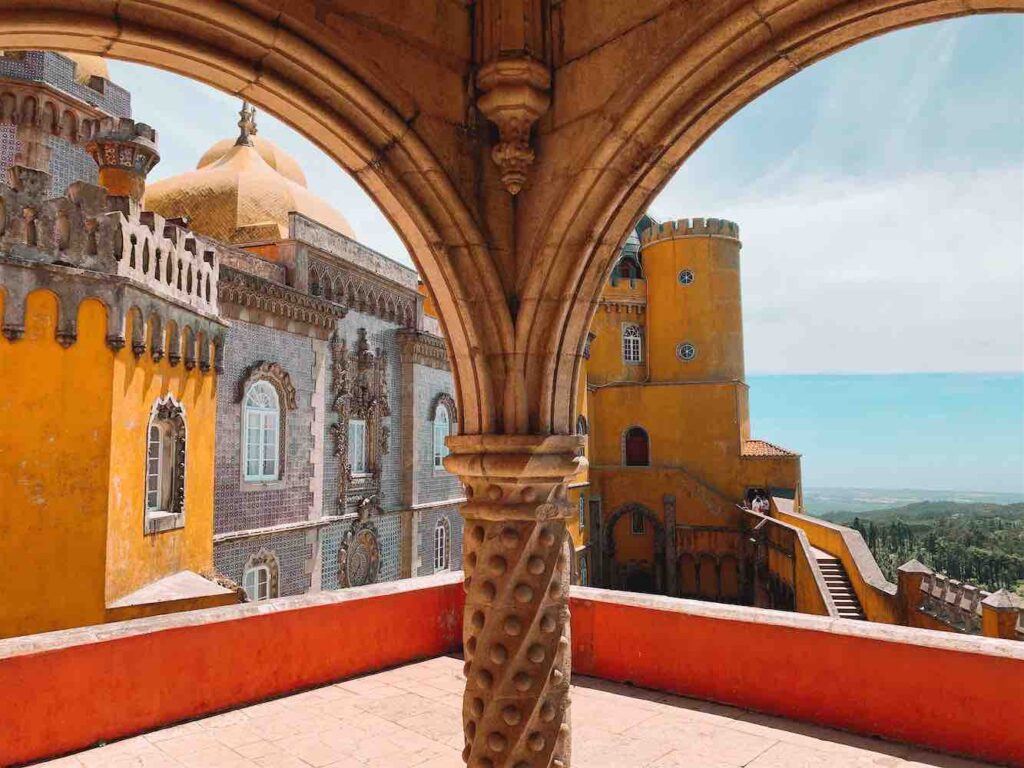 Sintra is a town out of a fairy tale.
It is, quite simply, the most magical and romantic place we know.
Whether it's its history, the beauty of its palaces, the atmosphere of its town centre or the energy that emanates from its lush vegetation and seafront, Sintra and its surrounding area are a must for your itinerary.
Its centre is easily accessible by train from Rossio station in the centre of Lisbon.
And to discover its palaces, such as the Palácio Nacional da Pena, one of the 7 Wonders of Portugal, or Monserrate (pictured here), you'll need to opt for transport.
Here's the contact information for Antonio guide, who has a 2-seater tuktuk: +351966769443
Or have a look at our itineraries from Lisbon with driver/guide.
Where to see the sunset / have an aperitif in Lisbon
Miradouros in the city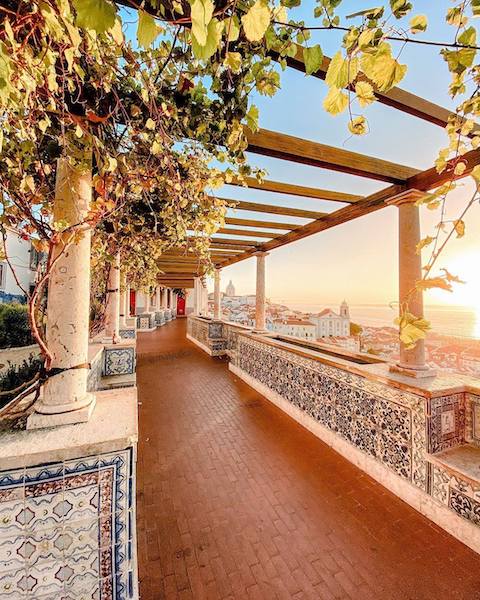 The city has a number of viewpoints where it is pleasant to take time to contemplate.
These "miradouros" have their own special qualities.
Rooftops
The city of 7 hills has dozens of rooftops, each with its own style and atmosphere. We'll let you make your choice by browsing the article above.
Dinner for two – Lisbon and surroundings
Of course, the choice of restaurants here is really down to individual tastes and budgets.
Here are a few suggestions, but the easiest way is to consult our Restaurants section, where you'll find addresses to suit your taste.
Ponto Final – Almada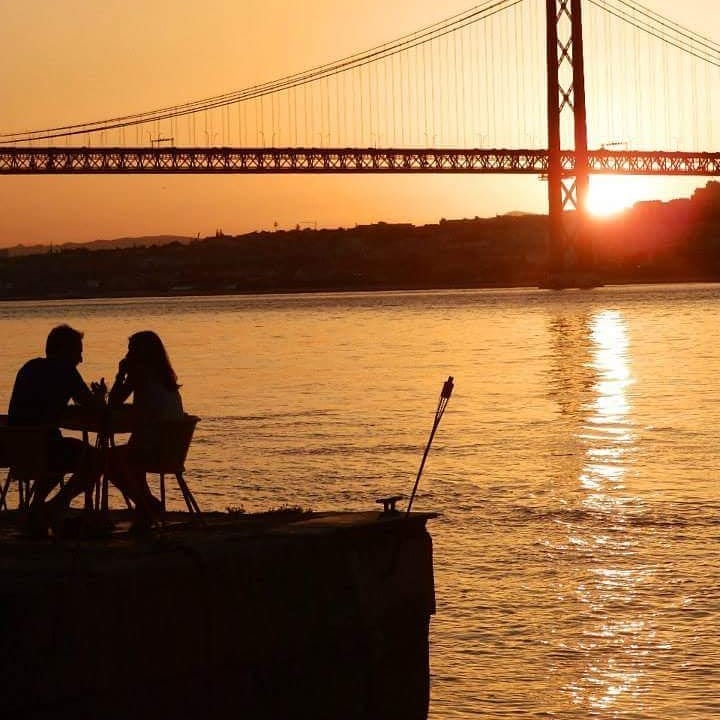 On the other side of the river, you have a magnificent view of Lisbon.
This restaurant, which serves typical Portuguese fish dishes, has a terrace right on the quayside.
It's a great place to enjoy the view of the 25th April Bridge, and even better to watch the sunset.
A victim of its own success, you'll need to book in advance or arrive early to take your time…
Combines very well with a visit to Cristo Rei.
Tuesday to Sunday 12.30 – 16.00 / 19.00 – 23.00
Approximate price: €35 and €50 for two people
R. do Ginjal 72, 2800-285 Almada
Silk Japanese Restaurant – Bairro Alto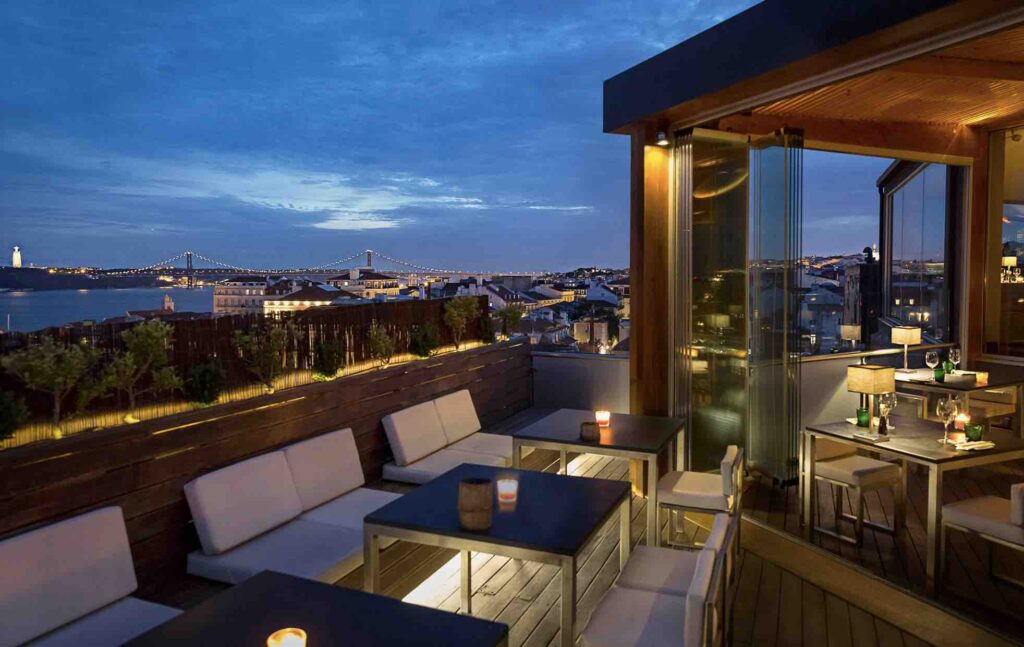 Fancy a Japanese meal with a breathtaking 300-degree view of the city? Then this is the place for you. You'll be enchanted by the cosy atmosphere, illuminated by the lights of the city.
Recommended price: €60 to €80 for two
Tuesday to Thursday 7pm-1am | Friday, Saturday 7pm-4am
Edifício Espaço Chiado, R. da Misericórdia 14, 1200-273 Lisboa
Gastronomic dinner and sensory explosion
Lisbon is home to some of the world's most famous chefs. If you're in the mood for a complete experience where all your senses will be on fire, this is the place to be in Lisbon.
Where to spend the night in Lisbon
There's no shortage of places to go at night in Lisbon, whether it's for a drink, live music or dancing.
You can choose to wander the streets of Bairro Alto and Pink Street, stopping off at places that appeal to you for their atmosphere. Or go straight to one or more of the venues in our selection:
Pensão do amor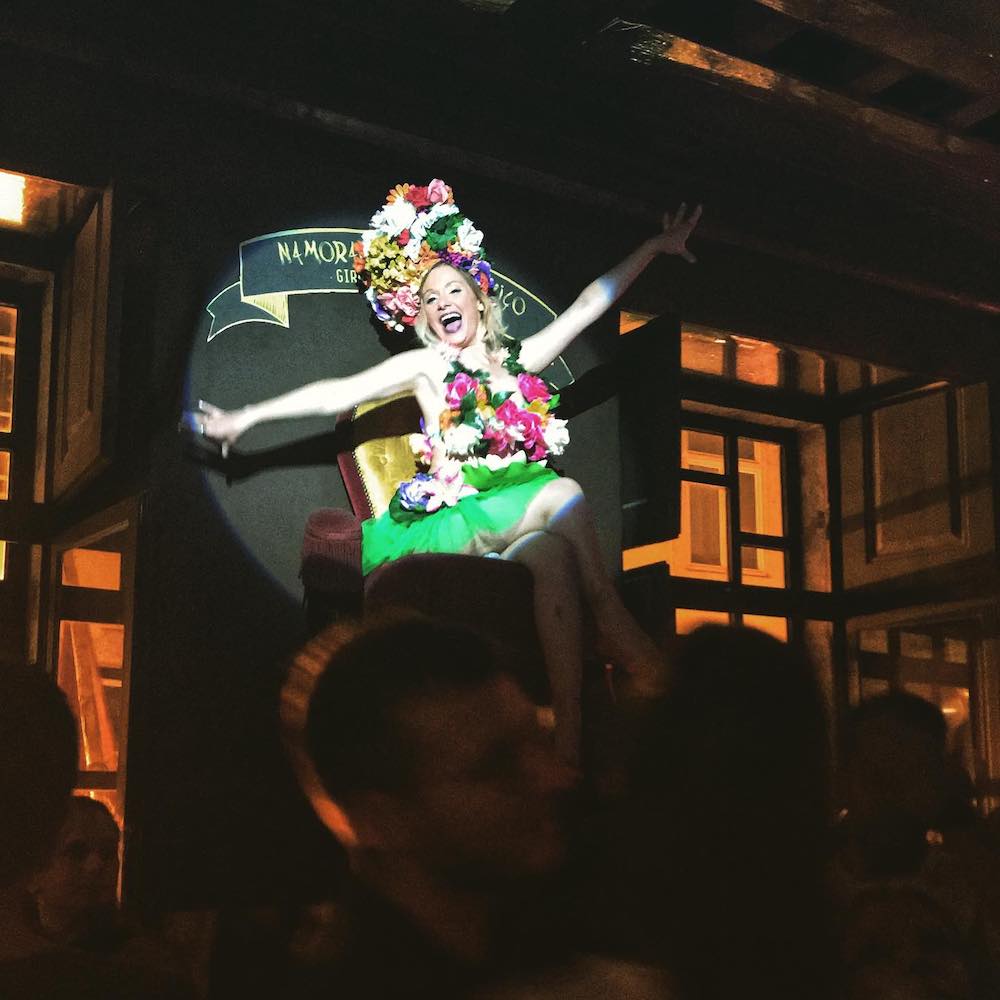 An emblematic bar in the heart of Pink Street.
It used to be a brothel when Lisbon was still a major port.
Despite its age, it has managed to preserve all its history, which can still be read on the walls.
With no less than 8 rooms, you'll have the pleasure of strolling through a burlesque and baroque atmosphere, with an erotic bookshop, a fortune-telling room, a sex shop, varied and colourful shows and an indoor/outdoor bar with the most aphrodisiac cocktails (around €10).
We recommend a visit during the week when the evenings are quieter, as it's not uncommon to have to elbow your way into the bar at weekends.
Sunday to Wednesday 7pm-3am | Thursday to Saturday 7pm-4am
R. do Alecrim 19, 1200-292 Lisboa
Bar Foxtrot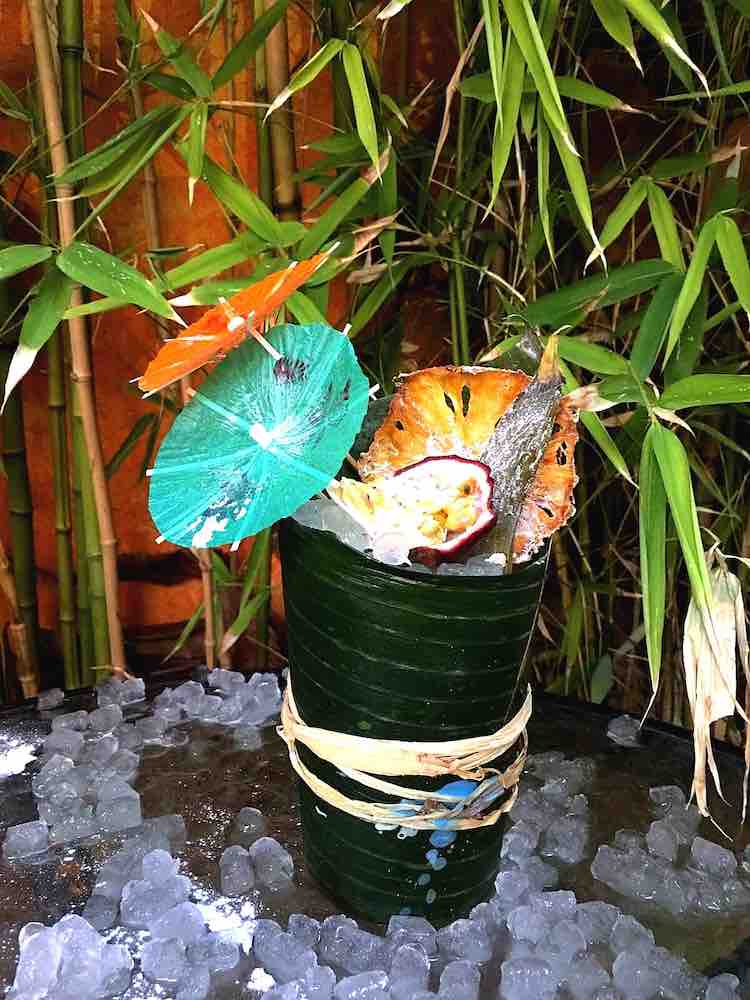 At 38 years old, Bar Foxtrot is one of the oldest bars in the city and one of its best-kept secrets.
We're going to share the address with you, but shuuutttt! Don't tell anyone!
With its Art Deco atmosphere, atmospheric music, terrace for warm nights and fireplace for cooler ones, this is the ideal place for couples to meet for a delicious cocktail, their speciality. To give you an idea, here's their menu.
It's just a stone's throw from the Assemblée de la République.
Closed on Sundays / open the rest of the week from 18:00 to 2:00.
Tv. Santa Teresa 28, 1200-405 Lisboa
Dance Salsa, Bachata or Kizomba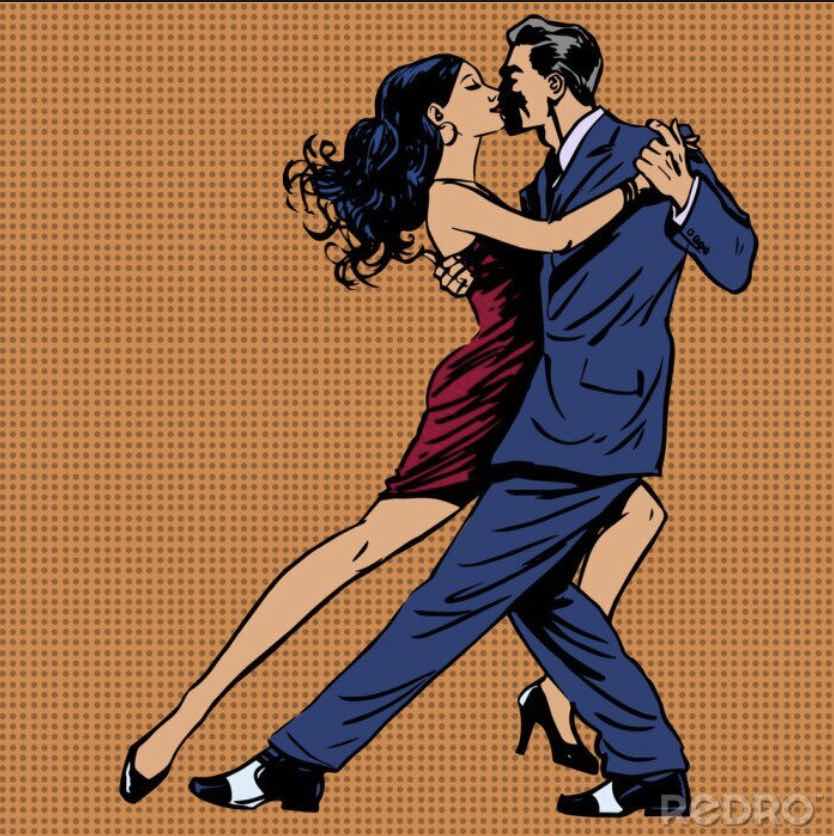 Salsa. A Spanish word meaning figuratively: charming – spicy is both a musical genre and a dance for couples.
Dances for two are an opportunity to develop your physical synchronicity in a rhythmic, fluid exchange.
The Top floor of Parques das Naçoes is one of the best places to do this. Make the most of it before or after a programme on the quayside.
Dance the Forró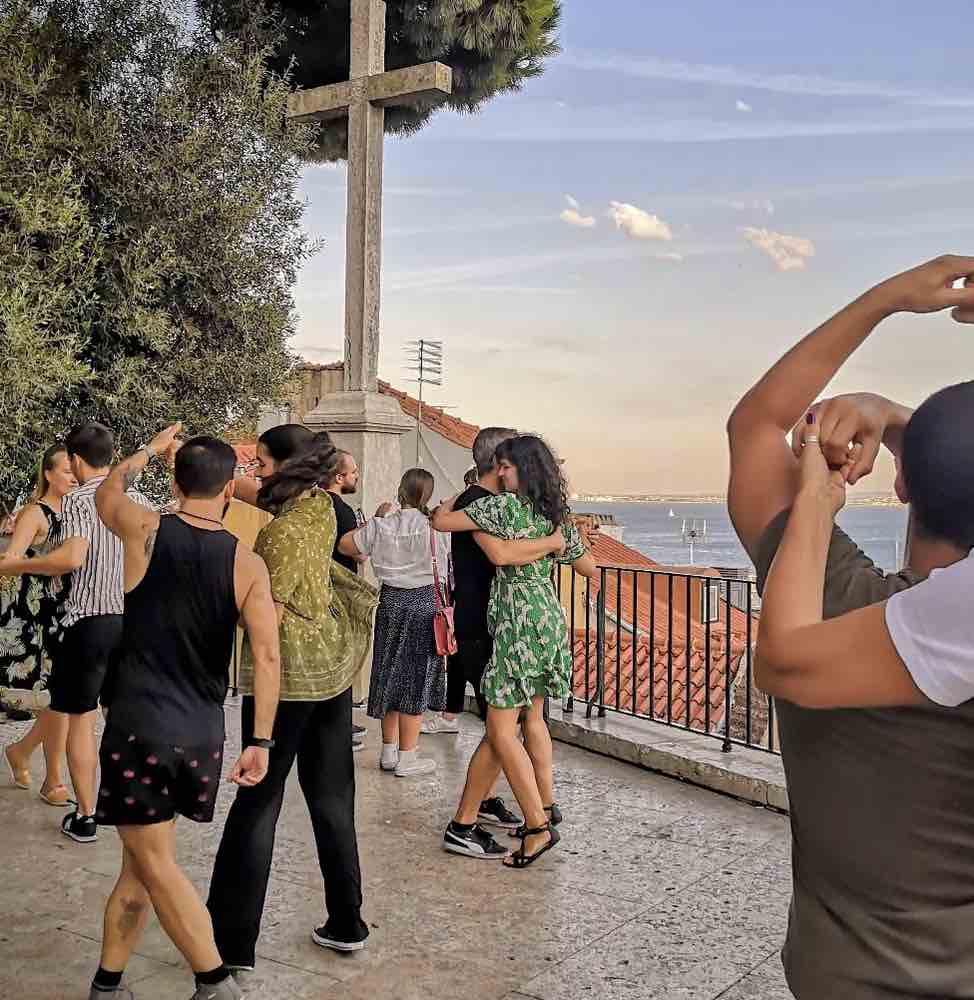 Forró is a popular genre of music and dance that originated in northeastern Brazil. Forró dances are events where you can dance and listen to live music, and are very popular in Lisbon.
It is characterised by a fast and lively rhythm, with simple but dynamic basic steps that are easy for beginners to learn. It is performed by groups of local musicians playing live or by DJs.
Several groups and collectives organise this type of event in the city, either outdoors in squares, Rua da Liberdade, Miradouros, or in halls and clubs.
We've left you the link to this Whatsapp group where all these events are shared.
Upcoming events and concerts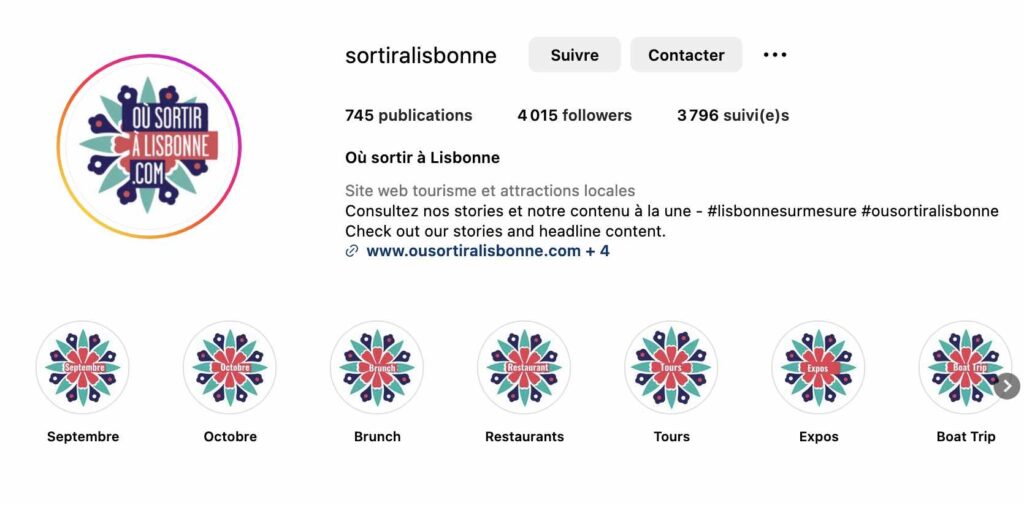 Follow us on Instagram, we share everything we find about Lisbon's culture and dolce vita.
Epilogue
We hope you've found this article useful.
If you would like a tailor-made programme or to make a marriage proposal, please contact us!